Crock Pot Pizza Casserole

February 26, 2007 8:31am CST
1 1/2 pounds lean ground beef 2 medium onions, chopped 2/3 (16 ounce package) rigatoni, cooked 2 cans pizza sauce 2 pounds mozzarella cheese, shredded 1 package pepperoni mushrooms In a skillet, crumble and brown meat along with onions. Layer ingredients in crock pot in the order given. Cook on low for 5 hours. Makes a full pot.
5 responses

• India
26 Feb 07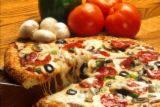 thanks for the recipe here is another recipe for you Crock Pot Pizza Casserole A friend of mine, Elizabeth, gave this to me a few years back... another I keep meaning to try! by Tom&Candy| 6-8 servings 5¼ hours 15 min prep Change to: servings US Metric 1 1/2 lbs lean ground beef, browned and drained 2 medium onions, chopped 11 ounces rigatoni pasta, cooked and drained 28 ounces prepared pizza sauce 2 lbs shredded mozzarella cheese 3 ounces pepperoni, sliced mushrooms, to taste Layer the ingredients in this order: Beef, Onions, rigatoni, pizza sauce, mozzarella, pepperoni, mushrooms. Cook on low for 5 hours. hope you liked it

•
26 Feb 07
Thank you for the recipe! I will have to try this one. I am printing them out and putting them in my folder. I love cooking!


• United States
28 Feb 07
This is in the crockpot right now!! Oh My!! It smells so good. Only 3 more hours until I can eat it! Thanks again for the recipe - and that you for best responce.

•
28 Feb 07
The smell will drive you crazy. I hope you can last for 3 hours!! It won't be easy. Enjoy!