Car accident

Portugal
February 26, 2007 2:52pm CST
Did you have some car accident? Has it bad? Has you the driver? Has you the guilty driver? I have one once. I was not the driver and was a really nasty accident. luckily no one was hearted. But the car had to go to the junkyard. Would you like to share some of your experience?
7 responses

• United States
26 Feb 07
I've been in a few. Two with my mom but nothing major happened. I sort of had one myself. I was the driver but no one was hurt. I was the only one in the car. It was snowing outside and I slid into a bank. The only thing that had to be fixed was my car.

• Portugal
26 Feb 07
accidents are bad, but some how we feel good when we know that no one got hearted! Thanks for you replay!

• United States
26 Feb 07
I was in an accident when I was 17. I just got my lisence and was driving in a car I have never driven before. I was not used to the steering at all. I ended up hitting the guard rail by a telephone pole. No one was hurt and the car had a very tinny dent on the underside of the bumper. I did not think much of it so I left. Needless to say and hour later, the cops are at my house to right me up tickets. I could have instantly lost my lisence but i fought the tickets since no damage was done to the pole or guard wire nor to any person(s).

• United States
26 Feb 07
I forgot to mention. The reason I crashed, I did not know how to control the car with the steering since was driving a big truck. I was taking a turn to fast and couldnt turn the car.

• Portugal
26 Feb 07
Sometimes the lack of experience can be a big problem. When I got my license I almost never drive the car because I was to scare to have a accident.

• Philippines
28 Mar 07
Nope, i never experience a car accident..And i'm hoping that i will not meet that kind of horrible thing..Because when i can see people meeting that kind of accident, gosh!! it's so terrible, having lots of blood, having lots of fructures anywhere in the body..It's painful..I dont have my own car yet, if i will have i make sure to be careful always because i dont want to be hurt and to die at an early age..

• Portugal
30 Mar 07
You got to the right point there. If we drive with safe, everyone wins.

• Philippines
17 Mar 07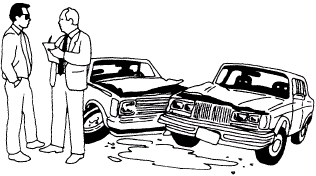 Wow! this post reminds me of the first major car accident I encountered together with my colleague sometime on September last year. It was a pretty scary moment and thanks God I wasn't hurt too much. I mean, the impact of the other car bumping ours was not on the part where I was sitting. But that didn't make me so happy though coz one of my colleague who was a good friend got some cuts in her head and we rushed her to the hospital...and thanks God it wasn't that serious... though we really didn't get into a real big accident, still the memory of that very moment creates some traumatic experience in me...

• Portugal
17 Mar 07
We always have the memories of this moments very clean in our minds. And in some way this is good in order to take more attention while we are driving.

•
27 Feb 07
I been in a few accidents (my wife tried to kill me three times!!) but one I pay for still. This lady stepped out from behind a truck and I hit her before I even had time to brake. Luckily it was in a village with very narrow streets so I was going slowly. Even then I still broke many bones in her body. I felt really bad about it even though there was nothing I could have done to avoid her unless I had vanished in a puff of smoke!! And luckily I had witnesses to prove she was in the wrong. However, my insurance company said that they would increase my premium on the chance that the lady may make a claim against me in the future! So even though I was innocent, it is still costing me more years later!

• Portugal
28 Feb 07
It's so revolting when we have to pay for thing that we are not guilt of. But at least no one was hearted. Now your wife must love you very much.

• United States
27 Feb 07
I almost hit a telephone when I was first starting out. The next time I seriously drove was on my grandfather's farm and in his truck when it went of the bank. Needless to say it became a convertable. I had flipped it onto it's top.

• Portugal
27 Feb 07
You flipped a farm truck? You need a lot o skills to do that. : ) Thanks for you replay!

• Canada
26 Feb 07
I was in an accident when I was 16 , I was the one driving but it was nothing serious . I ditched my car but it ended up being wrote off as the ditch was steep and I wrecked something on the car that would have cost more to fix then the car itself . It was the road conditions as I was going around a sharp turn that had gravel all over it .

• Portugal
26 Feb 07
You can drive at age 16? that's great! Here in Portugal we can only drive at age 18!