Do you believe in guardian angels?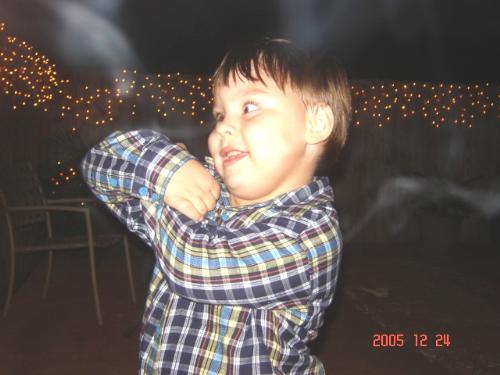 United States
February 26, 2007 3:41pm CST
I believe there are forces at work in our lives, and I believe there are angels that protect us from harm. About two years ago, I took some photographs of my nephew who was 3-years-old at the time. We were at a party during Christmas at my house and he was running around the pool. I took some photographs of him, and when I got them developed and printed, I found strange white mists all around him. It was in every photo I took of him when he was around the pool. I took photos of others around the pool, some in the same position as my nephew and the mists were not there. They only showed up in the photos of my nephew. I think these were his guardian angels keeping him safe around the pool. I've posted a few of the photos. What do you think? Do you think guardian angels exist in your life or the lives of others? Do you have a story to tell about guardian angels in your life? I'd love to read about them.
6 responses

• Australia
27 Feb 07
Yes, I believe that is indeed a guardian angel. I am sure it is exciting for you to encounter the discovery of the angel through your photograph....blessed be.

• United States
27 Feb 07
Thank you. I was very excited to see the photo with the guardian angels, and they were in every photo I took of him by the pool. I have always believed there were forces around us that protect us or try to harm us. Now I have proof, at least for me.

• United States
27 Feb 07
I absolutely believe that we have someone watching over us. I was in a really bad car accident where I fell asleep on my way home after working a 14 hour shift. My foot pushed the gas pedal all the way to the floor and I ran off the road and hit a cement culvert(like a wall) head on. I was thrown partially through the windshield of my car and hit in the face with a car battery that I had in the back of the vehicle. It broke my jaw and caused massive head trauma. I somehow managed to get myself out of the car and walk almost a quarter mile to the nearest house. I don't remember any of this, but the police and people at the house and hospital put this together for me. Anyhow, when I made it to the house the woman who answered the door turned out to be a nurse that worked at a nearby hospital. I didn't have any identification on me at that time and she found out who I was when her husband came running into the house because he supposedly heard the crash. Her husband turned out to be a guy that I dated for almost a year when I was in highschool. He said he hardly recognized me at the time because af all the facial and head injuries. He then called my parents and told them I was on my way to the hospital. I was in intensive care for 12 or 13 days and in the hospital for almost amonth and a half. The police and doctos were amazed that I ended up alive because the officers who investigated the accident scene est. my speed to be almost 70 mph at the point of impact. That happened back in 1995 and the only lasting problems that I have is some arthritis in my jaw and knees. I'm planning on attending college and have had no other bad effects as far as brain function and the sorts...so "YES" I wholeheartedly belive that someone was watching over me that night because I don't think I'd be here now if there wasn't an angel somewhere.


• United States
16 Jan 09
Hey Melanie, this is Jalisa. I wrote a long, detailed explanation of my belief in guardian angels. However, when I went to post, MyLot made me register first, so I lost everything that I wrote. However I'd like to say that this almost made me cry, and gave me chills beyond belief. I've been changing, and trying to become the best Christian I can be, and ever since we've been separated, I've prayed that God would bless Joey, and protect Him and keep Him safe. This proves that my prayers have not gone unheard. This is just what I needed today, thank you Melanie. [On a side note, those "forces" you say are at work within our lives, well, I believe that is God at work within us, not forces.]

• United States
16 Jan 09
Hey Melanie, it's Jalisa! This is the first time I've ever seen this. I instantly got chills. You may or may not know this, Melanie, but I'm currently in the process of changing for God, and making myself a better Christian. This really struck my heart because it proves (to me) that God is not ignoring me, or any of us, at all. To answer your question: yes, I do believe in guardian angels. But not in the way most people believe in them. Everyone thinks that guardian angels have been assigned to every individual, for life. But, going back to my faith, the Bible says that Jesus will send the Holy Spirit to all of His children, to teach them and guide them (paraphrased of course lol). I also believe in a Triune God (Father, Son, Spirit). Since God can be anywhere, at any time, in the world, I believe the same about the Holy Spirit. I believe that He, the Holy Spirit, is constantly guiding us, constantly telling us "DON'T DO THAT!" or, "You should have said this...", etc. Those little "voices" in our heads, they are not just voices, but that is God inside of you, telling you what you SHOULD and SHOULDN'T do. Many people aren't in touch with this part of themselves, and therefore end up leading bad and sinful lives. I could go on and on, but I don't think this is the proper place lol Feel free to e-mail me anytime though gata.jalisa
@gmail
.com [And these forces you say are at work in our lives, there is only one explanation for that. Jehovah. God Almighty. The proof is on the Earth, just look around, because if I can find it, you'll find it ;) ] Love ya Mel!

• India
6 Jul 07
I strongly believe in guardian angels. We may not see them but they are always present besides us.Whether it is a baby or an elderly person,everyone has a gurdian angle.Just check the Holy Bible.