Hell on Earth: Global Warming is Satan's Plan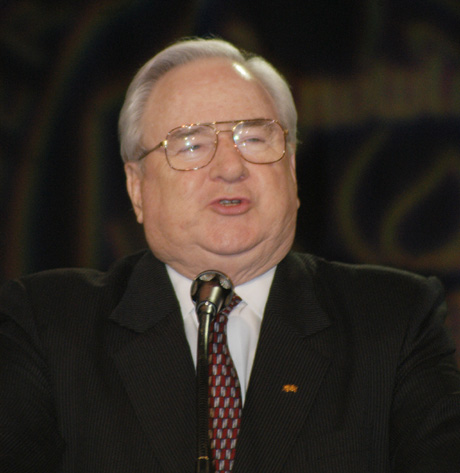 United States
February 26, 2007 6:57pm CST
In a sermon given on Sunday, February 25, Reverend Jerry Falwell commented that global warming is "Satan's attempt to redirect the church's primary focus." According to one of my sources, the Reverend has information that proves this claim. "The jury is still out" on whether humans can affect global warming, positively or negatively. Based on the thought that God will mantain the Earth until Jesus returns, he goes on to encourage Christians to be responsible environmentalists, but not "first-class nuts." He does not, apparently, define what Christians should consider to be first-class nutty actions. Over the years, I've heard various things about global warming, mostly that our actions and technologies are contributing various contaminants into the atmosphere that are causing an average temperature increase. This is the first time, however, that I've heard of someone using a religious basis to try to refute it. I have no doubts that our actions are affecting the global environment. I think it's possible that our emissions are causing an increase in the average global temperature. I believe that if the temperature were to rise high enough to melt off all the ice in the ice caps, we would have to deal with costal flooding, and temperatures that would be destructive to humans. I don't think an average global temperature increase is something to worry about, as long as it isn't a sudden drastic spike. I believe that the jury (humanity as a whole) is still out on whether there is actually a God or not. I believe that it's possible that both sides of the argument are hyping their side of the argument for their own nefarious/divine purposes. Sources found via Google search: http://news.google.com/news?lr=us&ie=UTF-8&ncl=1113969453&hl=en As a side note, my twisted thoughts connected things inside my head in such a way that Reverend Falwell had inside information about Satan's plan to open the gates of Hell upon the Earth in order to burn the planet to a crisp and thus bring about a victory for Satan while the balance of the Earth's population is sunken in depravity and bound for Hell. Now, just so you know, I BELIEVE THAT THE PRIOR SENTENCE IS A COMPLETE FICTION INITIATED BY MY WARPED SENSE OF HUMOR. You can flame me about it if you want, but I'll probably laugh at you :) My $0.02 at the moment.
7 responses

• Canada
27 Feb 07
Oh my goodness! Now I really have heard it all! That is by far the most ridiculous thing I've ever heard. Jerry Falwell may make himself a danger to society by making irresponsible and completely fictional comments like that, preaching them to many folks who, unfortunately, can't think for themselves and will blindly believe in such foolishness.

• United States
27 Feb 07
I like the way you think. I wonder where Reverend Falwell got his interview with Satan and managed to pin him down on his reasoning for thinking this would actually work. He (Satan) has to know after all these many years that he (Satan) is fighting a stacked deck against him (Satan). I think he (Satan) has delusions of grandeur similar to Wile E. Coyote who thinks he can actually catch the Road Runner. Good luck, Reverend Falwell.

• United States
27 Feb 07
I believe that there is some truth to the global warming discussion. I also believe that both sides probably are over reacting. I have read religious discussions of global warming, in a book by Larry Burkett, whom we usually think of as a Christian financial advisor. I cannot think of the name of the book, but even my little local library has it, and a search of their database would tell the title. I liked what one person posted about being skeptical of religious politicians or something like that. Warped senses of humor seem to do well here on MyLot, for the most part. So if you get flamed, well you are a dragon, flame em right back.

• Canada
1 Mar 07
Well, of course global warming is caused by Satan, that explains everything! Except all the evidence that emissions from manmade products and technologies have been responsible for the big expanding holes in our protective ozone layer (does anyone still remember CFCs?), and that all the methane and CO2 we pump out is changing the way heat dissipates through the atmosphere... But hey, people like the reverend have always been pros as ignoring scientific fact and evidence. The polar ice caps are melting? Satan must be doing it. Hell is coming to earth people, so repent and make sure to pay your church dues! *sigh*. I hope people don't take my sarcastic rants the wrong way, it's a funny issue. Thanks for posting an interesting discussion ElementalDragon.

• United States
1 Mar 07
Excellent post. This is the first that I have heard religion brought into the melting pot of opinions and I agree that both sides of the arguments have some people using it for their own purpose, almost forgot also divine purpose, which is rather sad because many of the "ordinary" people are genuinely concerned with the environment.

• United States
7 May 07
Well, that's an interesting theory...but that's all it is. Personally I don't really believe in global warming let alone believe that it's from the devil. People are just paranoid. And this so called "reverend". I don't know where he gets his sources. Maybe Satan is working on him to make him think that Satan's causing global warming to distract people, just to distract him. Haha, you follow?