how will you define your country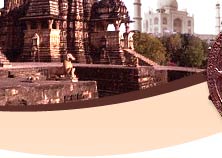 India
February 27, 2007 12:36am CST
india is a land of rich cultural heritage, where people are still bound to their traditions and diversity delights. india is a land of magnificient monuments, Taj mahal being one of the seven wonders. how will you define your country, what is the one special thing that makes your country unique from the rest of the world
5 responses

• India
27 Feb 07

For those who r non-Indians Bankim Chandra has described india as... "Rich with thy hurrying streams, Bright with orchard gleams, Cool with thy winds of delight, Dark fields waving Mother of might, Glory of moonlight dreams, Over thy branches and lordly streams, Clad in thy blossoming trees, Laughing low and sweet! " Now about my definition, one special thing that makes your country unique from the rest of the world... Culture, Tradition...? Every country has its own. (n feeling sorry to say that now in most serveys Taj mahal is not counted as top 7) Then what's make India unique....Manpower...lol Its India's, (I'm not getting proper word in english)..."Aabo-Havva" (surrounding envt.)which makes me feel proud to be an Indian.

• Nepal
27 Feb 07
i am from nepal i think you know about it we are neighbours ...arent we? but i want to show some of it glimpses..nepal consists of 1/3rd of the total himalayan region of the world..with words highest peak MT EVEREST it is the second richest country in the world in water resources.. ...the founder of peace and buddhism ...light of asis...lord buddha was born here ...it is a land locked county ....it is enriched with natural beauty ....lakes,mountains,rivers,plains,valleys....lots of wild life .....and people from all over the world visit nepal for treeking ,river rafting,seeing wild life and understanding kind ,honest brave people's cultural aspect in their life... you are our neghbour if you dont have visited still please be here you will have lots of fun

• India
1 Mar 07
i have been there only once in my life time, i.e to mahendra nagar, just for few hrs, i shall love to go to kathmandu with my hubby

• India
27 Feb 07
India is Incredible and Matchless. Its a country of God and Culture

• United States
27 Feb 07
America - most would first thing say 'it's the land of the free' but although I am so grateful to be able to worship freely and have the many other freedoms we have here there is much more. America (US) is truely a melting pot - there are so many people from around the world who have come here for the freedom and have brought with them their traditions and cultures. The variety is glorious and something new or different at every turn of the road.

• India
27 Feb 07
India is Incredible & matchless. To know more about India, Visit my site : www.santoshunecha.blogspot.com