Will Al Gore run?

United States
February 27, 2007 7:20am CST
It seems that maybe Al Gore is positioning himself to make a run for the White House. He's just won an academy award, is a Nobel prize nominee, has the experience and the money to do it. It appears all the cards would be in his favor, although it is rumored that he's said he wouldn't look forward to running against Hillary. What do you think he'll do? Do you think he'd have a chance of winning this time around? Would you vote for him? Maybe Gore/Obama in '08? I'm interested to see what the opinions are, personally I'm on the fence about it.
5 responses

• United States
27 Feb 07
I thought George Clooney had a conversation with Gore at the Oscars and then came out and said "he's not going to run"? I thunk Gore would find it hard to battle both Clinton and Obama.

• United States
28 Feb 07
Personally, I think it's a huge mistake nominating him for a Nobel prize. Doesn't the Nobel committee usually wait years and years to see if a person's contributions to their field pan out and dramatically change things? Global warming has been in the collective lexicon for years, Gore had as much to do with its spread as the Internet. I definitely won't vote for him if he does run, because I do think he's a joke.

• United States
28 Feb 07
Well I would have to agree that nominating Gore for the Nobel prize is a bit premature, and I am really not sure he deserves it. However I don't think he's a joke, I do think he is on a mission to help solve the climate crisis, and I think he is indeed making a difference. All of his good work will be hugely discredited if he does make a run for the White House again, so I really hope he doesn't.

• United States
1 Mar 07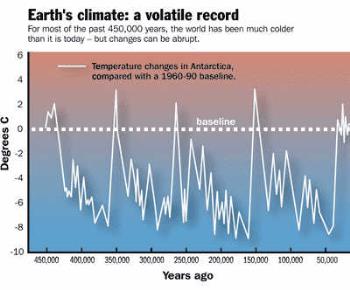 The thing is, according to as many scientists (if not more) as Gore had in his movie, the climate isn't changing any more than it normally would. Climate changes over time, independent of human affairs. It fluctuates from highs to lows every 60 years or so, and right now it just happens to be in the high phase. What Gore has done is make everyone scared over something completely natural and harmless. Global warming does not exist. So when Earth quits its warming cycle and gets cooler again, the entire Democratic party can claim responsiblity for saving the Planet, when in fact they've done nothing. It's a genius ploy, and the way things look, they'll succeed with it. http://www.unexplained-mysteries.com/forum/lofiversion/index.php/t86583.html

• United States
28 Feb 07
LOl, I posted the same question a few days ago after seeing him on the Academy Awards. I have a tiny feeling he's waiting for the other candidates to do their mudslinging, then he'll slip in near the end. I definitely would not rule him out. I like your idea of the Gore/Obama ticket. My hubby thinks no way will Obama settle for VP. I think both he and Hilary should go for VP before attremtping the presidency, but we'll see. I'd love to see Gore in the race!

• United States
1 Mar 07
I didn't think Obama would settle for VP either, but wouldn't it be kinda cool if he did? Then the when he runs for president nobody can throw the "inexperienced" card at him!

• United States
27 Feb 07
I think he's going to run. Especially now that he's won that award, he acts like he thinks that people really like him and he would have a good chance to win. I sure wouldn't vote for him though, he's turning into a joke! I wouldn't want global warming to happen anyway, but just to show him how silly he looks, I hope it doesn't happen. hehehe I don't think he accomplished much (I can't think of one thing) when he was vice-president and I think most people know that and do pay attention to things like that. He's going to have a rough road ahead of him if he tries to run for office again.

• United States
27 Feb 07
I too believe he'll have a rough road ahead, but I have to disagree with you that he's turning into a joke. I think he's being taken more seriously now than he ever was. He did accomplish quite a bit during his terms as VP, but with Bill overshadowing him a lot of it went unnoticed. He was part of creating more jobs ever seen in US history, more than Reagan and Bush in their terms combined, He cast the tiebreaking vote for expansion of the EIC tax credit so many of us take advantage of, not to mention expansion of the HOPE credit for college students. Although he did not invent the internet he has advocated a lot of things to get it where it is today. He authored the "Information Infrastructure and Technology Act" in 1992 which sped the introduction of computers into schools and hospitals. And of course there's more. I think people are forgetting that the Clinton administration was not a one man show. And they don't nominate you for a Nobel Prize if you're a shmuck. I think if he does decide to go for t we'd have quite an interesting race on our hands. Thanks for your insight, it really started me thinking! :)

• United States
28 Feb 07
I really wouldn't be surprised to see him run again, however I don't think I would vote for him. I think he is doing great things environmentally right now, but I don't think he would make a good president, I didn't when he ran before either. Particularly with foreign policy I just don't think he has what it takes (not that you can mess up much more than Bush has already....). We need someone that can get of out of this mess in the middle east or at least on a path to sorting it all out. I don't think Gore would be the man for that at all. I also think he would have an extremely hard run against Hilary and Obama, but more so Hilary. I guess we shall see, if he is gonna run we'll be getting wind of it soon I think.