Funny names for cats

Netherlands
11 responses

•
27 Feb 07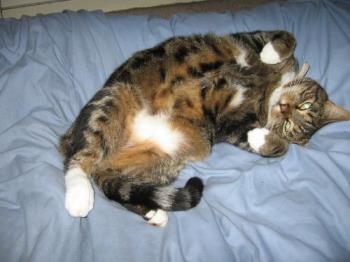 My cat is called Moomin. It was the name of a childrens television character and it suits her very well. She was also a stray that walked into my life a while ago and has made my home her own.

• United States
27 Feb 07
My family has had cats named Foofen-head, Boo-kitty, Fuzzy Trouble, Antisocial, and the most recent one is C.A.T. (pronounced "Siadie"). I've also had a cat who I named K.C. For most people, they use this as "Kitty Cat." But it was actually for K.C. Masterpiece barbecue sauce- because that cat LOVED barbecue. He tried to climb up the front of my dad's shirt and lick it off his face.

• Netherlands
28 Feb 07
I love all the replies everyone is posting so far. My cat is called Chaja which means Life. I hope to post at least one funny picture of her when I have reached enough posts to do that.


• United States
1 Aug 07
I have lots of cats, so I'll name a few. One of the funniest ones that I had several years ago, was Fartey. She was named appropriately. I had one named Burnsey, he was named after the person that dumped him off on my road as a little kitten. The last name of the person was Burns. I had one named Musape'( my son named him), I have a Chachi, Pesto, Booker T, Dudley, and Sneaker. I think those are the funnier ones.

• United States
29 Mar 07
Fish is a cute name. I had a Siamaese, and his name was BoBo. Now I have a tortie, and she is so loving and into everything. Her name is Sweetie Pie Trouble, and I have a long hair called Sonny.

• Spain
27 Feb 07
That name is brilliant i have a siamese called Boo Boo's and a fluffy thing called flossy, unfortuantely l ost my charlie a few weeks ago to kidney failure he was only a babe, but my vet is arranging to get me a little adopted stray in a few weeks time, so it's reallt great watching all your replies, lol got a list of names on my coffee table

• United States
27 Feb 07
When my sister-in-law passed away I took some of her cats and kept their names the same. One of the cats names was Magay, I have no idea where it came from or what it means but I've never heard it before.

• United States
27 Feb 07
My cat is called Murgatroyd (that's him in my Avatar pic). I didn't pick it out, he was sort of named by committee. It comes from the Hanna-Barbara cartoon "Snagglepuss" the pink panther that would say "Heavens to murgatroyd!" and "Exit stage left." We call him "Murgs" for short (or "CAT!" when he has been bad).

• Australia
27 Feb 07
My aunty has two siamese cats called suky pronounced su ki an the other is called minka. One of my uncles called his dog buster.

• Canada
27 Feb 07
I used to have a cat called Katt, pronounced the same just different spelling.