when are we gonna get cricket grounds like these......????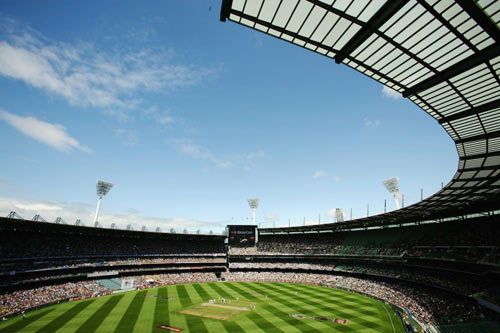 India
February 27, 2007 10:14am CST
BCCI....the most earning cricket body......but why the hell we dont hav quality grounds n pitches...? where the hell is the money goin...?atleast a part of it could be utilised for improvin d quality of cricket... give ur suggestions for improving.......
4 responses

• India
28 Feb 07
its a gud question buddy....indian board is de richest cricket board....n still dey r not utilising it ....dey r putting it dem into der pckets.......its very bad....n it would tak a lot of time for building dem i guess

• India
27 Feb 07
yes meera i am agree with you atall..bcci is the most earning governing body in cricket world but i dont think we can use that much of money to improve wickets.Its really tough job to get soil from abroad and prepare a pitch here .It was planned to be done but unfortunately its not done still so.there is a single way i am approaching to make a fast wicket which needssoil from abroad and hope itwill be done soon.

• India
28 Feb 07
The grounds vary in size. Most grounds on which official matches are played measure about 137 metres wide and 150 metres long.The wickets are 22 yards (20.12 metres) apart in the centre of the field. THE GOOD WICKET is good for scoring runs as neither the spin nor seam bowlers are able to make the ball bounce surprisingly.

• India
28 Feb 07
you r wrong you donot know only india has many cricket grounds of world standard in the world.