What's the "cutest" or "sweetest" thing that your dog ever did?

Philippines
February 27, 2007 12:11pm CST
Dogs are man's bestfriends..I really believe in this saying, especially if you've taken good care of your dog and if you treat them like human beings... My dogs do a lot of cute things..I talk to them, I play with them..I remember, when I was really sick and I was left alone in the house, my dogs "comforted" me...How? Well I was crying because I felt I was "dying" cause of the pain I felt in my stomach, suddenly, my dogs came running to me and licked my face and hand...They stayed with me until my parents came home... I felt that was really sweet and I was grateful to my dogs for that. How bout you dog lovers out there? Share instances wherein your dogs actually did a cute or sweet thing for you... (",)
5 responses

• Philippines
28 Feb 07
I cant really say its the cutest but its the sweetest thing my dog did for me. Ive always had big dogs and they knew they are supposed to protect me and my family. I forgot my keys to our house and the screen-gate-like-door outside our house is also locked so I just stayed outside. I called my sisters and my dad but they are out as well. My dog was inside and it seems that he heard what Im saying to my family. I was just surpised when ripped our screen gate open as if he was rescuing me from being outside hehehe.

• United States
27 Feb 07
When I would cry, my dog would come over and lick my tears away. When I had a migraine and couldn't go anywhere except my bed, my dog never left my bedside. He wouldn't go out to play or go eat or anything. I had to pretend I was eating so HE would eat.

• Philippines
27 Feb 07
ain't that sweet? = ) I'm glad we got dogs..they're really precious!!!

• United States
27 Feb 07
I have three large dogs, Sparky, Onslo, and Grainger. Sparky, the youngest of the three, is very active and almost always into something. When we are watching television, Sparky will go between me and my boyfriend, looking for attention. He can get the saddest look on his face when he wants attention. He also "scents" me, meaning he rubs himself on my legs, arms and body to let the other two dogs "know" that I "belong" to him. But, when my boyfriend is home, he stays glued to my boyfriend's side, no matter what. Well, most of the time, no matter what. Onslo, our black lab, does not get along well with Sparky, although at times they will play nicely with each other. Whenever Onslo comes over to me for some love and attention, Sparky will bark at him and try to chase him away from me. Last night, though, he tried to do this and Onslo just ignored him. Sparky began to whine like he was being killed or something. It was so funny because it was just "killing" Sparky to have Onslo getting attention. I laughed so hard. We keep the dogs in the family room for the most part as it is easier to let them out in the back yard from there and keep them contained if they get wet or messy from bad weather. We have a half door at the entry to the room. Sparky will jump up on the door and lean his head to the side. It's so cute. I love my boys so much!

• Philippines
27 Feb 07
yeah...I mean, it feels like our dogs are our children, right? = )It feels great to have dogs

• United States
27 Feb 07
Oh, yes, I love my babies. They mean so much to me. Sometimes I'll bring Onslo into my "office" and he just lays at my feet or he'll stand beside me and put his head in my lap. I'll pet him for long periods of time. He usually sleeps with us, and if I go to bed first, we'll lay on the bed and he'll cuddle up to me while I pet him as I'm going to sleep. My babies, indeed!

•
28 Feb 07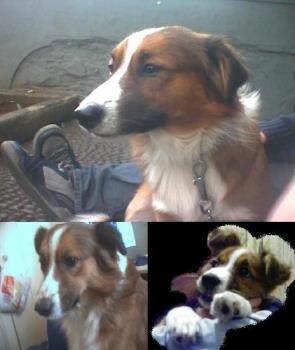 I loved it when my dog that passed away played with my boyfriends cat, they'd play so well together, and funny thing is he was more gentle with the cat playing then when he'd play with us. And if she scratched him on the nose or eye by mistake, yes by mistake cause they'd play and she loved sinking her claws when she played with him, I'd always get worried that she'd hurt him but they loved each other, he'd just make a small yelp and keep playing if she scratched him. When he played with us he loved biting hard sometimes and if we hurt him by mistake he'd snap at us, don't get that wrong only if we hurt him by mistake not all the time and he wouldn't snap to hurt us it was just a reaction. He did a lot of sweet things, if I was feeling down it was as if he sensed it and he wouldn't leave me, he was a real sport and I miss him a lot.

• Philippines
28 Feb 07
Wow, that's one sweet dog---i mean, cats and dogs are supposed to fight but in your case, your dog and your boyfriend's cat became friends...I agree with you, dogs do sense whenever you're feeling down...

• India
28 Feb 07
ya i think dogs sense what u feel,i think they are very emotional and they get attached with their owners emotionally,when i was child i have a dog to whom i love very much he is very caring for me,he didn't allow anybody to touch me in his presense and he also respect those to whom i respect like my parents.