Victoria Beckham - she's yours now LA *grin*

February 27, 2007 3:44pm CST
Whilst she has some 'fans' I'm sure (though I've yet to meet any) the overwhelming public opinion in England of Victoria Beckham is that she's a vacuous and moody stick-insect thin clothes horse with a monumental ego. Speaking for myself now, I can only say how pleased and relieved I am that she's moving straight to Los Angeles from Madrid - for a little while I was terrified she was going to come back here. It's fairly easy to avoid her when she's on the other side of the pond - not so easy when she's here making headlines constantly for such amazing feats as wearing a pencil skirt, pouting whilst wearing trannie heels and a pair of 6 year olds jeans and constant hair flicking. I really don't like to be too hard on the woman - she's human after all however she's done so little to redeem herself in my eyes since she came to our attention as a member of the Spice Girls. She met and married a handsome and, at the time, very successful footballer, she managed to piss off his Manager causing a rift that wouldn't be healed leading to his eventual selling to Real Madrid. His form has dipped, he's no longer the England captain - he's not even in the national squad, Real Madrid don't play him - he's there purely for financial reasons bringing in the big bucks of marketing/promotional opportunities. Brand Beckham as it's called - all engineered by the financially savvy VB. She wanted to go to Spain, she now wants to go to LA - what Vicky wants she gets - with bells on. But for me the final nail in her coffin was when she refused to admit she'd had breast augmentation. The woman lost several stones in weight and turned into a pipe-cleaner yet miraculously and against all odds her bosoms grew bigger (or so she would have us believe) - I know fake boobs when I see them and I don't appreciate being taken for an idiot by someone who has written two books but says publicly she's never read one. She's now admitted her breast surgery (ya don't say!) and indeed has had her pneumatic front further enhanced - a couple of half grapefruits now adorn said pipe cleaner. As you've probably gathered - I'm not a fan, you're right - she's not nice, she's not clever, she very rarely smiles and she's full of it. Wicked (and petty I'll admit) though it sounds - her husband having an affair (allegedly! *smile*) with the classy, voluptuous and intelligent Rebecca Loos was tremendously gratifying at the time. Apologies to all VB fans/supporters - I can't help it - if she smiled occasionally and did something charitable once in a while I might begin to like her. Until then ...
5 responses


•
27 Feb 07
Perish the thought! Paris and Vicky best mates - bleuch. You don't think there's any danger of it happening do you??? *tremble*

• United States
1 Mar 07
Actually, I hope it does happen. The way things are now, we'll see 50 "news" stories about Paris a week, and 50 "news" stories about Victoria a week, for a total of 100 crap stories. If they become pals, maybe we'll only have to deal with 50 Paris&Victoria (or Victoria&Paris) stories.

•
1 Mar 07
HOLD THE FRONT PAGE EVERYBODY - Victoria is making headlines today for ... wait for it... having blonde highlights in her hair! Whoop de doo, actually I can't really blame VB for some of the publicity she gets - it's the news editors - why on EARTH are her highlights considered newsworthy? I don't get at all.


•
2 Mar 07
I have to admit, hun, I'm with you on this one. The woman is no role model for young girls, with her stick thin and scrawny frame and her vacant obsession with designer labels. One only has to open the newspaper to see yet another "exclusive" picture of this creature parading around in an overpriced bit of tat by some alleged designer. I will be glad to see fewer pictures of her in the papers, and I am hoping that once she moves we will see less of her in the news. No I don't like her very much either

•
3 Mar 07
Thanks for sharing your opinion. It seems to be the general census of opinion that she's a waste of space. I await her supporters coming on here and rallying to her defence (but shan't hold my breath!).

•
10 Apr 07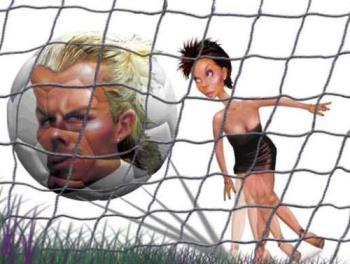 Ah I was just reading an article about how hurt Mrs Becks is cos the Americans aren't giving her the glorious welcome she thinks she deserves! It made me laugh out loud. Yes, LA, she's yours now. She hasn't done any good for us in the UK (you're right she never seems to smile)! You guys can in the US have her and keep her, and PLEASE don't send her back. I'm SOOO sick of seeing her miserable scrawny face plastered across every other magazine and I don't care a hoot that she's upset about being seen as pushy, because the truth hurts after all doesn't it? David B is the one with talent, it's time his wife shut up and took a back seat. Her only claim to fame is her marriage after all, face it woman, and stop trying to grab all the attention all of the time! x

• United States
27 May 07
I love your post bongoheads. I for one can't stand her. She is in my opinion a no talent bimbo hanging on David Beckhams coatails. I think the best thing he could do would be to get rid of her at the first opportunity. It says a lot when he had an affair so Victoria decided to have another child. If she was a well like, beautiful and popular as she likes to think she is why would she have needed to stay with someone who played away from hime. Tom Cruise has gone down a lot in my estimation too - if she is the best he can find for a friend then he needs help.

• United States
27 May 07
LOL! wow, i always got the impression that everybody in england just loved her. and i never knew it was because of an arguement between Victoria and the manager that caused them to sell Beckham to Madrid. i also thought that they had just made a stupid move. and as for fake boobs. totally fake. most women lose weight in their boobs before they lose weight anywhere else..admittedly there are some that do the opposite i suppose..but seriously..the way she looks her body must be feeding off of boobs alone to survive and in that case..they would STILL be getting smaller, not bigger!! lol..dang it! another idiot, worthless "celebrity" to influence the already warped perceptions of young girls today!