Do you ever watch World Combat League fighting?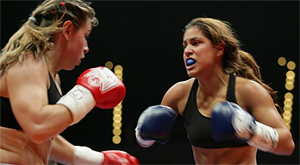 United States
February 27, 2007 4:29pm CST
This is an awesome league of a mix of kick boxing. I'm currently watching the women fight and can say I'm finally PROUD to see women in a man's sport that truly pull their weight. They are good at what they do and I'm telling you, could probably take a few "men" down with their abilities. Anyone else enjoy this league? I'm currently watching it on Versus tv.
3 responses



• United States
3 Mar 07
See, the wrestling like that doesn't appeal to me. I just think it insults my intelligence and is so fake that I can't get into it. I guess it's like watching a soap opera or something though... tons of people love it and they have a pretty huge fan base for sure! I prefer the real fighting and this WCL is amazing.

• United States
27 Feb 07
I've been watching it since it started up. I love seeing the women finally get their shot at this type of sport. I also loved when Alis daughter stepped into the sqaured circle. Anyhow there are some awesome contenders in the WCL right now & it's going grow by leaps & bounds.Thanks for this topic & Happy postings.

• United States
3 Mar 07
I had no clue that Chuck Norris founded the league either! That alone shows that it's a real deal and not like the WWF crap! LOL I think the women in this league really rise to the occasion from what I've seen and that's not always true with a lot of females in a normally male sport.

• United States
3 Mar 07
Yes ran into WCL while channeling searching about 3 weeks ago so i alsways go to the station i found it looking for it. Yes i watched last night that was some good fighting i liked the first women match better...and the tow fights with the big tall guy damn he is vicous and fast. Burouli is like dynamite also. I love the martial arts

• United States
3 Mar 07
The one woman I saw fighting and kicking some major booty was Santiago. She was little and most of her opponents had a huge height benefit over her but she could get in under their roundoffs and just come up and either deck them or pull a kick of her own off! She was pretty good and fast too!