The joy of sharing books is a gift.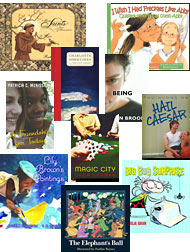 United States
February 27, 2007 5:20pm CST
You can give this gift to your children by chanting nursery rhymes, singing songs and reading stories. These are comforting and entertaining for even the youngest child, according to the American Library Association. Are you raising young readers?
9 responses

• United States
27 Feb 07
I gave you a + rating for this, it's very good. I wonder if many parents these days make the time to sit and read with their children. Women are working, and are so tired when they get home to all the other chores. I grew up with all that, and love reading. I have wonderful memories of special times shared with my parents too.

• United States
1 Mar 07
My kids are in the 30 ish neighborhood, but they always loved reading. When I would go to the grocery store, they would beg to stay in the car and read. I would not let them. I did let them sit on a bench inside the store and read while I shopped. I remember someone asking me "What is wrong with your kids, they're reading?" and that would have been about twenty five years ago! LOL

• Richards Bay, South Africa
28 Feb 07
My child is grown up and out of the house, but I taught her the value of books and the knowledge it brings. A child growing up without them, is surely a sad story. And I'm sure growing up with books are a rarity these days considering all the technology

• Australia
28 Feb 07
I absolutely agree with you. My husband, myself and my daughter all LOVE reading. I started reading to my daughter when she was 6 weeks old. Now she is in the gifted class at school. We love giving books as gifts too.

• United States
28 Feb 07
I totally agree. Book is always a great gift for anybody who read books. Specially for children it is good to give them book as a gift because we can make a habit of reading book for them.

•
28 Feb 07
I love to buy my son and nieces books I think it is a great joy and even though they have lots of toys and clothes often as gifts for their birthdays etc. I always make a habit of buying them a book because i notice very few people do.

• United States
28 Feb 07
We always read to our kids when they were small and today they still read. Reading is so very important. I worry about the kids today, they are spending too much time with video games. then need to get back into reading.

• Philippines
28 Feb 07
I do read books to my niece, I pass and share at her the knowledge to be able to appreciate small wonders that this world has given to us. I know that this would be a great help for her on the time she would go and venture out for school. And I am glad that she have made some interests from it, I just hope that she would also apply the teachings of the stories that I read for her..

• United States
28 Feb 07
I just bought my nephew The Wind in the Willows. He loves to read and he's only 8 but reads at a 6th grade level. He loves reading and started his own library for him and his friends....quite the entrepeneur. The Wind in the Willows is a classic of children's literature written in 1908 by Kenneth Grahame. The story is alternately slow-moving and fast-paced, focusing on four heavily anthropomorphised animal characters in a bucolic version of England. The novel is notable for its mixture of mysticism, adventure, morality and camaraderie. It gives as much pleasure to adult readers as to children, although for rather different reasons.

• United States
28 Feb 07
I buy books for the kids for their birthdays, for Christmas, and for any other gift giving occaision there is. I think it's most important to give them books that they will be interested in reading to foster their reading skills. Plus, I read to them whenever I can so that they get to hear stories, and see how much I love to read too. I always tell them that with books we can travel anywhere we want to go to.