Telecommuting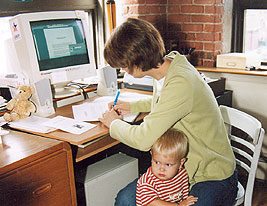 Canada
February 28, 2007 8:52am CST
I've recently read an article about telecommuting, that is when workers do their jobs from home and communicate with their office using computers. That is what many myLotians do I may suppose. The article says telecommuting is growing in many countries and is expected to be common for most office workers. It means many of such occupations as secretaries, office managers and staff like that will pass. Do you agree with the author? Is it really possible that in the near future telecommuting will be so common and universal? Please share your ideas. Thank you.:)
4 responses

• Philippines
28 Feb 07
I agree with the author. I'm gonna give you a heads up. My work is actually telecommuting, I suppose. I work as a Receptionist for 8 different small businesses in the US and I am here situated in the Philippines. What I am using is just a PC and a VOIP phone so that I could make unlimited calls in the US. I also work as a Business Loans Representative in one company in the US where I take calls to those who inquire about the loans we offer. If you can see, Virtual Office is now rampant nowadays. Labor cost is just less here in the Philippines that's why many US based companies invest here. Besides, most Filipinos speak good english too. I suppose in the near future, this will becoming more rampant especially if people will learn to accept the idea of Virtual Office where telecommuting may happen. I hope this information helps :)

• United States
28 Feb 07
I think that sounds really great. I've heard about this over the past few months but am not sure what business if any were I live are doing this. I would love to be able to have a job like this that I could do at home. With the price of gas the way it is it would save a lot of money.

• United States
28 Feb 07
Lots of people will be able to do it, at least some of the time. But I don't see offices and secretaries disappearing. Fewer of them will be needed, but there will always need to be a central place for people to meet, to exchange materials and meet with customers and vendors, etc.

• United States
2 Mar 07
I think that with the possiblilities that the internet has made available, and with the rising cost of gas - if it is at all possible for someone to telecommute, then yes that will be the norm in a few years. I am not sure that it will do away with certain positions, though; what would happen if you went to your doctor's office or lawyer's office and there was no secretary there - only a computer that you had to use to "tell" the telecommuting secretary that you are here for an appointment?