Where do you worship?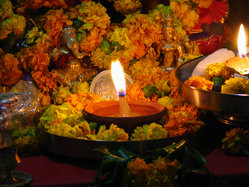 United States
February 28, 2007 11:40am CST
How do you practice your faith? Do you belong to a congregation of fellow believer's of your faith? Do you attend services every week or once a month? Do you practice your faith in your home or through a ministry on television? Personally, as a family we attend church services generally,once a month. As the kids get older, we will probably attend Sunday services more often. How about you? Where do you worship?
3 responses

• United States
5 Mar 07
I was born and raised catholic. My husband is Lutheran and we got married in a Lutheran Church. We started going to this Lutheran Service here in Germany. I decided to convert and do the classes and the test. But the Pastor was being screwy, so I quit, my husband did to. Hopefully when we go back to the US we will find a Lutheran church that we like and probably continue the process of me converting.

• United States
5 Mar 07
I was raised as a southern baptist. My husband is Lutheran so when we married I joined his family church and took classes to learn about the lutheran church. We have been very happy with our church. I am sure that you will find the right church to meet the needs of your family. Thanks for responding.

• New York, New York
28 Feb 07

I am Catholic and I go to Church but not mass any more. An incident happened and got me very angry so I will not attend mass. I love to go to Church in between masses, it is quiet and I pray and light my candles. I feel so good being in Church. I also pray and light candles at home. A good friend was in the hospital dying and he was in a coma, I went to the hospital chapel and asked the priest on duty if he would give my friend the last rights and he asked if he was Catholic, I told him yes, I told him my friend was is in this country alone no family at all and I know he's Catholic, he asked me how did I know for sure (like what difference does it make at this point in the mans life even if he wasn't) so he came to the room and looked at his chart and did not see what religion he was on his paper work so he pretended to give him the last rights. I spend 8 years in a Catholic school so I know what steps are done to perform the last rights. I was so angry, the thing that stopped me from fighting with him was because he was a man of the cloth. I went to my local Church and explained what happened and a priest came to the hospital and gave him his last rights. That same evening, my friend past away. I am so happy I was able to do this for him. I hope he is in heaven. This candle is for you, Martin.

• United States
28 Feb 07
You showed such incredible love and compassion for your dying friend..everyone should be given the opportunity to have last rites before they pass on. I am disturbed that someone in the ministry would not perform this ritual for someone in the proper way because they were not "officially" a member of their church of faith. What a wonderful thing you did for Martin..may he rest in peace.

• Australia
1 Mar 07
Yes, I belong to a congregation of fellow believers and I am active in the Church ministry. From my reading of the Scriptures, I believe we are meant to assemble together on a regular basis to worship God and to strengthen and encourage one another and to provide a basis for evangelism and discipleship. How do I practice my faith? Non-stop! This doesn't depend on going to Church. Christianity is all about a RELATIONSHIP and I have a personal relationship with my loving heavenly Father through the Lord Jesus Christ who loves me and gave Himself for me. For me to live is Christ and to die is gain.