Little Debbie Snacks

United States
10 responses


• United States
1 Mar 07
i have been buying those with colored ones on them.

• United States
1 Mar 07
I do like them, I do not buy them too often. My son sits and eats the whole box at a time. So I just quit buying them.

• United States
1 Mar 07
my kids are the same way, if there are goodies in the house they are gone as soon as they make it thru the door.

• United States
2 Mar 07
Oh Lord, I love them! I particularly like the Peanut Butter Bars and the Chocolate Cookie Crisps! My all time favorite would be the Swiss Roll Cakes! Sadly, my love of Little Debbie Cakes led in part to my being overweight! We do not have them in the house now. ..less temptation!

• United States
2 Mar 07
I love the peanut butter (buddy) bars, but I could literally eat the whole box in 2 days so I rarely but them. Once in a while I'll buy one package from the bulk section for a treat. I have no sense when it comes to portion control, so the best thing for me is to avoid bringing it into the house.

• United States
2 Mar 07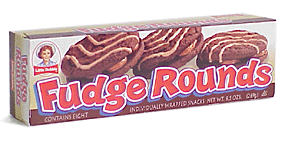 I absolutely LOVE them and so do my kids! Our favorites are the Star Crunch and the Peanut Butter Logs (chocolate covered cookie and peanut butter), but we love the peanut butter crunch, brownies... and oh heck most all the others. I buy their breakfast bars and granola bars often too. The only thing I don't really care for and don't think they are "up to snuff" with the competitors are their version of Ho-Ho's. Oddly enough I know some people though that say they PREFER the Little Debbie version! LOL

• United States
1 Mar 07
Little Debbie snacks are good to eat as well as inexpensive I prefer the swiss rolls. :)

• United States
1 Mar 07
I have to control myself eating junk food because of the high levels of transfat and msg, which can cause your health to deteriorate. I like any of the following little debbie snacks, despite the bad stuff in it: banana twins cakes devil squares swiss cake rolls fancy cakes oatmeal cream pies nutty bars marshmallow pies

• Etowah, Tennessee
1 Mar 07
I love them. Honey buns are our favorite! Living near Chattanooga I am near a plant . I think I will see if we can do a tour of the factory. Maybe they give out free samples!! Oh yeah, I like the seasonal ones to use for party food for the holidays at our Girl Scout Meetings.

• United States
1 Mar 07
Of course...LOL...my kids like the bigger one too! LOL We honestly do not have those very often in our house. But from time to time, the kids will get a treat and that is often what is gotten. Even during the winter holidays, their stocking will have some of those holiday ones. :) They really look forward to seeing those in their stockings!!! My partner's favorite is the Star Crunch. I admit I have tried a bite...and didn't really like it. hmm... Then there are those raisin creme things. I think those are really my favorite!!! Probably because my dad loved them also and that is what he would commonly get. My kids also love the Oatmeal Creme Pies!

• United States
1 Mar 07
I don't eat them much but my boyfriend eats them almost everyday. They sell them where he works and he really doesn't have much time to eat so he just grabs a Little Debbie snack. His favorite is the chocolate covered doughnuts and the Honey Buns.