The Jesus Tomb?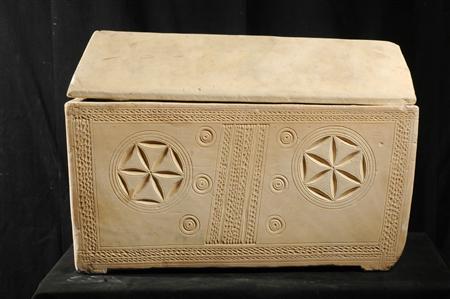 February 28, 2007 4:47pm CST
James Cameron's new documentary for the Discovery Channel is stirring up a lot of controversy, which is to be expected when you attempt to disprove the beliefs of a billion Christians. Cameron contends that some ossuaries discovered in Jerusalem back in 1980 might have been the family tomb of Jesus, Mary Magdalene, and their son Judah. http://dsc.discovery.com/convergence/tomb/tomb.html?dcitc=w99-502-ah-1024 What do you think, is this 'The Jesus Tomb'? http://today.reuters.com/news/articlenews.aspx?type=entertainmentNews&storyID=2007-02-26T234554Z_01_N26319137_RTRUKOC_0_US-JESUS-TOMB.xml&pageNumber=0&imageid=&cap=&sz=13&WTModLoc=NewsArt-C1-ArticlePage2
6 responses

•
10 Mar 07
I can't believe it, it goes against my beliefs and yes i'm a Christian. I think it is another celebrity getting his fame moment just doesn't ring true to me and no i don't want to watch a stunt

• Canada
1 Mar 07
Ok I mark that on my calendar. I'll watch it for sure. I'm not really a TV watcher, but sure sometimes I watch Discovery channel.

• Egypt
1 Mar 07
Just names on the boxes will not prove anything, it's impossible to prove anything with DNA tests .. it will be interesting to watch and see what they have as 'proves' but I'm very skeptical and think that someone is going to make a lot of money out of it :)

•
2 Mar 07
I agree but I will be watching this with much interest.

•
10 Mar 07
I think 'Christians' will believe only what they have been taught to believe in their own churches .. folks of other persuasions maybe more open minded (and lets face it their are more than 3,000 religions in this crazy world of ours) .. as a non Christian I am ready to try and understand any and all stories and will keep an open mind about them .. but ultimately I want proof before jumping onto the band wagon .. which is why I am not a Christian .. !

•
2 Mar 07
This is going to be very interesting to watch. I dont know really what to beleave in any more! This will, I'm sure upset a lot of people.

• Canada
20 May 16
Mmmmm, I read both Hebrew and Aramaic, I've seen pictures of the inscription and...um, I don't even think it says what Jacobovici claims it says. Like him claiming it says "Yeshu bar Yosef (Jesus son of Joseph)" is...kinda wishful thinking, to say the least.