which do you prefer???

United States
10 responses

• Scottsdale, Arizona
24 Nov 06
ground turkey coz i dont eat beef

•
15 Jan 07
From the 2 choices given, i think i'll go for the minced beef. I dont eat turkey cos i was brought up to either minced beef and minced pork. Actually minced beef really got that very stong smell that puts me off but still i think it would be the best option. I really prefer minced pork, it taste really very nice.

• United States
18 Jan 07
thankyou I've never had minced pork!!!

• United States
24 Dec 06
ground sirlion it cost more but it is healther then regular ground beef

• United States
29 Dec 06
I dont think I ever tried it...but it sure sounds really yummy!!!

• Romania
21 Dec 06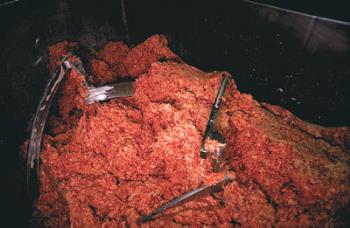 i like both!!!many countries, food laws define specific categories of ground beef and what they can contain. For example in the US, beef fat may be added to hamburger, but not to ground beef if the meat is ground and packaged at a USDA-inspected plant[1]. A maximum of 30% fat by weight is allowed in either hamburger or ground beef. Both hamburger and ground beef can have seasonings, but no water, phosphates, extenders, or binders added. Ground beef is often marketed in a range of different fat contents, to match the preferences of different customers.

• United States
21 Dec 06
I like both too thank you for the knowledge!


• United States
21 Dec 06
I agree with you to a certain extent...I wouldnt want my turkey made into a patty because there woulf be no taste...I enjoy that you can dd it in with things, and it has the taste its supose to have...I love red meat, but every now and than turkey is a good add on!

• Cambridge, England
17 Dec 06
I have only used ground turkey once. The flavour and texture is totally different from ground beef and, for what I use it for (cottage pie or pasta sauce) it is not nice. I think one could make burgers or sausages out of ground turkey but I still don't think the flavour would appeal to me. I use ground beef and ground lamb most often. I have several times had burgers made of ground ostrich. I found them indistinguishable from the best fatless beef (ostrich meat actually contains so little fat that it's necessary to add a little oil in order to cook them.) We have an ostrich farmer fairly close and he comes to most of the farmer's markets near us. His meat is rather expensive so I have never bought any but I do enjoy the burgers he cooks!

• United States
19 Dec 06
I never ever had anything thing other than ground beef, ground turkey and ground deer!!!

• Canada
27 Nov 06
I prefer ground beef:) that is because I don't have a choice. I don't eat turkey. But if you have ground pork in your choice, I would definitely pick ground pig:)+ YOu might be wondering why I don't eat turkey, its because in the Philippines we don't eat turkey:( yikes! also we are more of pork eater than beef why? because beef is more expensive there. So most like to eat pork. Now I am used to pork and loving it so I prefer pork really.

• United States
27 Nov 06
well thank you for all the information now I know...they always say you learn something new everyday!!

• United States
25 Nov 06
Ground beef. It just taste better. Ground turkey is healthier, leaner. Ground beef is not so great for us, especially fried into hamburgers. But it is so yummy!!!

• United States
25 Nov 06
yea Im beginning to enjoy them both eaqually for different things...its nice for a change every now and then!


• United States
15 Oct 06
I like both. I buy ground turkey more often now bacause ground beef are lot expensive than ground turkey.

• United States
15 Oct 06
You know whats funny is that I was brought up on ground beef all of my life, and I finnally tried it one time when I was making a mexican dip..and it was so delicious, a lot of people said they even liked it better that way...Im not sure though its a tough decision for me...i think you can do different things with them that make them equally attractive...