My dog Misty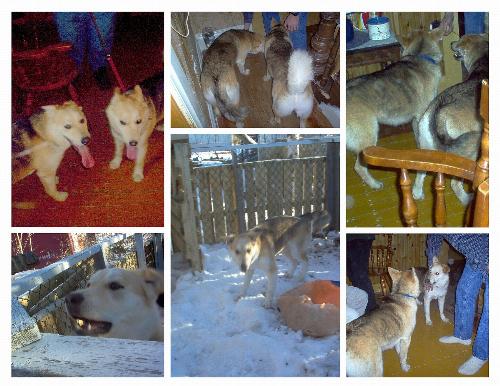 Canada
February 28, 2007 7:48pm CST
My dog's name is Misty . She is a Siberian Husky mix. She was born on January 21st,2004. I was excited to be able to bring her home at the age of 7 weeks. She has become my companion. She is a totally loyal dog . She loves all of us. My husband takes her for walks so I think he is sometimes more popular with him. If you show her her leash or even say the word "walk" then she gets all excited. Of course any time one of us puts on our jackets Misty thinks it is time for a walk as well. She is a very sweet natured dog and loves to be cuddled. She likes to curl up on my bed and sleep . She has 4 or 5 other siblings on the island . I took her to visit her sister Tika one day. Misty and Tika could be twins they look so much a like. I think Tika is a bit more friendly than Misty because she is not as timid . Misty can be a scardy cat somestimes. I hope that she will live with us for many more years to come . I hope that you will enjoy this collage of Misty and her sister Tika
6 responses

• Canada
1 Mar 07
I love animals so much. It seems a dog can never get enough of going out. I remember I could take my little dog out 15 times a day when I wanted to avoid doing other things like school assignments and each time I asked Tuffy if she wanted to go out she was as excited as if it was the first time.

• United States
1 Mar 07
Dogs are wonderful companions. I have a puppy who is now 7 months old. His name is Wiley and that is his picture at my name. He is an eskimo spitz. I just love him dearly. He is part of our family. Thanks for telling me about Misty. She sounds like a wonderful part of your family.

• United States
4 Mar 07
Misty is beautiful. Afraid I don't have a dog right now, mine passed away a few years ago. I do have a cat named Indy (Independance - she was born on the 4th of July). Indy's latest trick is she is using the toilet to urinate. What a blessing if she would decide to do the other business there also - no need for a litter box.

• Canada
5 Mar 07
Wow, that would be quite a trick to urinate in the toilet. How did she learn that ? ) My cats seem to use the litter box way less in the summer time. So that gives us a break .

• United States
4 Mar 07
I love the picture of your dog Misty as she is so adorable and would love a dog like that for a pet. She is very beautiful and I bet that she is fun to play with and take care and loves being around you. I do not know anyone here that has a Siberian Husky mix. I definitely enjoyed the collage and also welcome you to myLot and hope that you enjoy being on here.

• Canada
5 Mar 07
I couldn't be begin to count the number of dogs that are part Husky on this island. They go back a few dog generations . Want one , just come and take your vacation on Grand Manan Island ,NB

• United States
4 Mar 07
Oh your dog is beautiful!! My grandfather used to have a siberian husby when I was a little girl..her name was 'Topsy.' Isn't it strange how dogs just become a part of our family and seemingly have personalities just like people! To think that hundreds of years ago, dogs weren't domesticated!