nascar is back on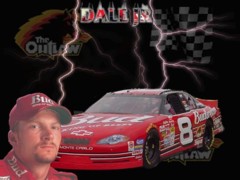 United States
March 1, 2007 11:21am CST
I know you all probably don't get into watching cars going fast and turning left but I have been a huge nascar fan for many years of course my favorite driver is dale earnhardt jr. I also followed his dad most of his career..I was just wondering if there are any nascar fans out there and who do you root for as a driver...
7 responses

• United States
1 Mar 07
im so glad it is back on, and we root for many in this household, from dale jr to mark martin to tony

• United States
1 Mar 07
I love Nascar racing and had a great time watching the Daytona on t.v. I've watched it for over 20 years and am the only one in my family who watches it. My hubby and kids can't understand why I like to watch cars race around a track but maybe it's because I was born in the south, lol. I don't really have one favorite driver, but I like Greg Biffle, Mark Martin and Dale jr.

• United States
1 Mar 07
The hubby & I are nascar fans from way back too. We always cheered for Dale Earnhardt until his final, fatal accident. Now we like to follow little E. I don't like some of the tracks though. I much prefer the more oval tracks where all the turns are the same. Might have something to do with my attempts at playing the nascar games on SNES and ps1 & ps2. For me, it never fails, I'm off the track or hitting the walls! LOL Just like the real racers! roflol


• United States
1 Mar 07
I too am a huge Nascar fan. Hubby and I watch as often as we can. Wasn't the Daytona finish amazing? Sorry about Jr. though. Tony Stewart is from where my family lives in Indiana, so I watch him. I really don't have a favorite racer though. I used to be a huge Sr. fan. I can tell you that I can't stand Gordon.

• United States
1 Mar 07
awe smoke is cool he is one of my favorites too and ya that was one of the most amazing finishes that I can ever remember...I bet him and jr. together would be a blast..Ummm I am with ya there with gordo not a big fan of him myself.I don't miss a race I tape them if I am unable to watch them.

• United States
1 Mar 07
That's great, I don't tape them, because our VCR isn't that great anymore.

• United States
1 Mar 07
That was one of the GREATEST finishes ever. Thanks

• United States
1 Mar 07
I too am a NASCAR fan. I prefer the local shorttracks as that's where most drivers start out. I attend a few around my house. I'll drive a few hours for some great smalltrack NASCAR local action. happy postings from Grandpa Bob.

• Canada
16 Mar 07
This is radical i am glad you added me to your friends list we have soooooooooooo much in common I followed Dale sr. through his whole career now i am following jr. i believe in time he will carry on the family tradition and the legacy of his father. I love nascar.