how do you know when to give money to your dependents?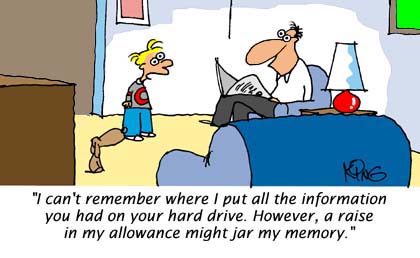 Philippines
March 1, 2007 12:34pm CST
i'm not so crazy about my dad right now. in fact i might go crazy because of him. here's the deal. my mom and dad have always been separated. elementary i was with my dad, high school with my mom, and now college im back with my dad. half way through college my dad got so tired of his boss so he quit. afraid that we wont be able to catch up with the expenses, i started working as a call center representative. was very tough. i woke up 4 am everyday to get to work and then after work i went to school. that's about 5 hours travel time everyday. my dad stopped giving me my allowance. which was ok because he was out of work. we were living off of his freelancing. last november i quit my job because i had to focus on my thesis. he got a great job in singapore, really pays well, much much more than his previous job's pay. im left here in the house, i pay the bills and everything else. im just so upset because he doesnt send money on his own accord. i always have to ask him for money. i give him a list of what i need the money for and how much i need. he'd send about half the amount i asked for. and he'd send it after i've filled up his inbox with requests! its just so frustrating. i don't want to ask for double just so he'd give me the right amount that i need. and its not like im asking money to buy things that i could live without. were talkin about basic necessities here. the thing is i dont think i need to beg him for my allowance every month. isnt it his responsibility? when i took that job it was a sacrifice because it was too darn exhausting but at least i had money to spend for my needs, especially for school. i told him that after graduation he wouldnt need to provide for me anymore. im only asking for a few more months of financial help. just so i can graduate. i dont think this has to be a part of my worries. i already have too much in my mind, my thesis, my papers, utility bills, sick pets, broken locks... graduation. all im asking my dad is to make my life a bit comfortable so i can finish my thesis. i cant write my short stories if all these things are troubling me. i want to graduate so badly. you might be asking what my mom is doing. well she already paid for my college tuition and i do not wish to bother her anymore. im just so stressed right now. im tired of crying. im tired of worrying. im tired of begging from my dad. im sorry if this is too long, too whiny, too melodramatic. im tired of all that too. i just need to let it out. thank you for reading.
2 responses


• Philippines
13 Dec 08
if its only needed in some sorts not wants because for me thats too much!