Sofia Curtis or Sara Sidle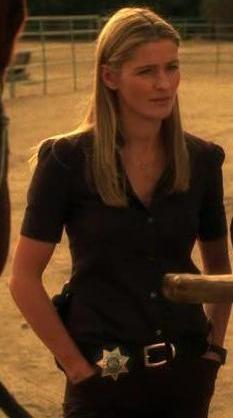 Philippines
March 1, 2007 6:51pm CST
On earlier episodes of CSI, Sofia Curtis seemed romantically interested in Gil Grissom. They had dinner together once but remain platonic with each other. Had Gil Grissom chose Sofia over Sara Sidle, would you agree or disagree with their relationship??
4 responses

• United States
2 Mar 07
I hope he choses Sara. Those two seem great together and make a superb team. I just hope the show doesn't turn from a crime scene show into a all out romance soap opera because of this though. Is Sofia even on anymore? I don't recall seeing her lately.

• United States
2 Mar 07
Ignore me on the Sofia not being on comment. I missed that she was still on since she doesn't seem to play a major role.


• Canada
4 Mar 07
I was always a Sara and Grissom fan, but I think half of the appeal in that relationship is how "forbidden" it really is. I don't think that it would mean nearly as much if they ever got together unless they could keep that tension that they bring when they are together. But I still like the idea of them getting together lol...

• United States
2 Mar 07
Between those two I'd prefer Sofia. I don't think Sara is the right girl for Grissom. She doesn't have the back bone needed or the spirit to be with him. She's looking for a father figure and she thinks she found it with him. Personally I'd love to see him with Lady Heather but since that wasn't a choice I'll go with Sofia.