home made pizza..

United States
6 responses

• United States
2 Mar 07
I use mozerella, chedder and coby jack for cheese. If your wanting low diet toppings, i would stick with little cheese on the pizza and load up on the veggies. Mushrooms, peppers, pineapples, onions, olives, tomatos are good veggie toppings. You can use tomato sause or spegetti sause for the pizzas too. All in all the cheese is the really fatty and oily part of pizza so if you cut that down, just use a little, then you will cut back on the calories in your pizza.


• India
2 Mar 07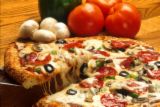 here are some recipes for you Pizza Hut Style Pizza Dough (bread machine) I came across the recipe from a copy cat recipe source. The 2 hours includes dough cycle time. This is one of the best pizza dough recipes I have found. 1 1/3 cups water 2 teaspoons sugar 1 1/4 teaspoons salt 2 tablespoons olive oil 2 tablespoons cornmeal 3 cups unbleached all purpose flour 1 teaspoon baking powder 1/4 teaspoon garlic powder 1/4 teaspoon onion powder 1/2 teaspoon msg (Accent*) 1 1/2 teaspoons bread machine yeast Add ingredients to machine bread pan in order as per manufacturer's instructions. Set to"dough" mode. Once completed place in 2-9x13 inch greased pans. Let rest in pans for 10-15 minutes. Add toppings of your choice. Bake 350 degrees F. until done (Approximately 20 minutes, depending on your thickness of toppings). I make the pizza in 9x13 rectangular pans rather than the round pizza pans, because the squares pieces are easier to reheat and pack in school lunches. here is another recipe Pizza Dough for Thin Crust Pizza Note:This is one of the recipes I adopted in the Great 'Zaar Ophan Adoption of 2005. I hope you enjoy it. 2 1/2 cups all-purpose flour (may substitute whole wheat flour for 1 cup of the all-purpose) 1 (1/4 ounce) package active dry yeast 1/4 teaspoon salt 1 cup warm water 1/2-1 tablespoon olive oil cornmeal, for sprinkling Mix a little sugar into the warm water. Sprinkle yeast on top. Wait for 10 minutes or until it gets all foamy. Pour into a large bowl. Add flour, salt, olive oil. Combine. Knead for 6-8 minutes until you have a moderately stiff dough that is smooth and elastic (add a bit more flour if you need to). Cover and let rest for 20-30 minutes. Lightly grease two 12-inch pizza pans. Sprinkle with a little bit of cornmeal. Divide dough in half. Place each half on a pizza pan and pat it with your fingers until it stretches over the whole pan. Try to make it thicker around the edge. If desired, pre-bake at 425 F for 10 minutes (I don't always do this). Then spread with pizza sauce and use the toppings of your choice. Bake at 425 F for 10-20 minutes longer or until bubbly and hot. Makes 2 12-inch pizzas. If you don't want to use all the dough, you can freeze it. Take a portion of dough, form into a ball, rub olive oil over it and place it in a freezer bag (the oil makes it easier to take out of the bag). When you want to make a pizza, take dough out of freezer and allow to thaw before using.

• United States
2 Mar 07
Thanks for the recipe.I will try to make in the weekend....

• United States
2 Mar 07
homemade pizza that is good for diet are the vegetable toppings or just add little roasted chicken with tomato sauce or the pineapple & ham only . use a low fat cheese for toppings then dash of garlic powder will make it more yummy . just buy a ready made thin crust pizza pie then spread with tomato sauce , olives , onions , bell pepper , pineapple , ham or chicken , shredded lettuce then cheese toppings - bake & serve hot with chili sauce !

• United States
2 Mar 07
I'm useing wheat pizza doe . youi can find it near the already made pizza doe. and i use low fat cheese i use american but you can use whatever you like best. Then i add some veggies and sometimes even peperoni .. I don't use a resipe just throw whatever sounds good together atm.

• Italy
2 Mar 07
there are plenty of good pizza dough recipes on the web, you shouldn't buy any cheeses that are made from skim milk, just buy the good kind and use less. you're food will be a lot better and you will enjoy your pizza instead of ditching it and running back to that awful pizza hut. p.s. you should buy a pizza stone, it will make a big difference. however, don't buy one from the store, go to a home improvement type store and buy UNGLAZED quarry tiles. These are roughly .70 cents a piece and you'll need four. this will save you quite a lot of money and the result is better than the 20 dollar "pizza" stone from the store.