global warming - can we do something or not?

Philippines
March 2, 2007 1:58am CST
ive just jeard about global warming in the news a while a ago. the possible effect of this tremendous threat is kinda weird and i think it needs an urgent act from all of us. what do u think about this guys? how can we help save the world? from my onw point of view, we should plant trees and minimize the use of our vehicles.. other than that.. cna u share with me please
3 responses

• United States
8 Mar 07
Recycle everything you can. Do they have recycling plants in your country? Recycle all paper, cans, plastic, cardboard. Try to buy things with minimal packaging. Don't waste electricity. Use florescent bulbs where you can - they save. Make sure when you buy household appliances that you buy the most energy efficient. Unplug appliances when not in use. Turn your heat down and your AC up - even a few degrees difference can mean a lot. Use public transportation or walk when you can. Avoid using chemical cleaners in your home. If you do - try to use minimally and don't throw them in the garbage. Try to repair appliances instead of buying new and throwing out the old - if you do - then recycle the old! These are just a few of the things we can do to save our environment.

• India
2 Mar 07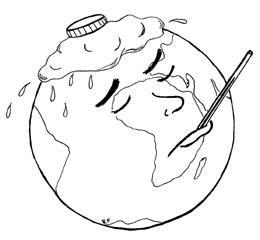 Oh, thr r many ways in which u can save the earth. If u smoke, thn u must stop and even tel ur frnds to do so. I hav cut down on my smoking a lot. I even go to the lacol market on my bicycle, earlier i preferred the car. Yes, u can definately plant trees, and encourage others also to do the same. But the environment is only going to get better if everyone joins hands for this noble cause otherwise the situation mite get worse. The govt. has to take serious steps towards this cause.


• Philippines
2 Mar 07
yeah! u r right dude.. thanks for the reply.we should really work togethr for the beneifit of mother nature. anyway, in the end,, it is us who will benefit all the hardwork that we will do.