Animals that you are mostly afraid of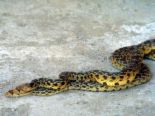 Philippines
March 2, 2007 2:17pm CST
I totally afraid of SNAKES. I don't like their figure, their face, teeth, tongue and everything about them. Movies that talk about snakes will do me good but when it comes to real life animals that you get to see, these are the snakes. In our province, there is a Python Sanctuary. It's a very huge python that is placed inside the cage. I would look at it but never will I get closer to it. I just don't feel right and good. I'm sorry to those who have pet snakes. I understand you like them but not me. CHeers!:)
10 responses

•
2 Mar 07
Snakes are still ok, they don't bother you unless you frighten them or you step into their territories.. however, the one thing that I HATE the most are cockroaches. Those die hard bugs seem to have the nag of surviving anywhere, fit through the tiniest gaps, even worst, some can fly! It's like if you see one then it could be the sign that the place you're at is not clean enough or there's a bunch of them hiding in an unreachable space in your perfectly clean room. They're definitely the worst!

• United States
2 Mar 07
That is a pretty good thing to be afraid of! our son was bit by a pit viper and suffered greatly. He was in hospital for a year and received the last sacraments of the Church two or three times. But, I do like small, harmless snakes - like garden snakes, grass snakes, rough green snakes and ring necks. I have a healthy fear of poisonous spiders that we get here known as the Brown Recluse (or fiddleback) and Black Widow. I do have a fear of RATS and MICE! *shudder*

• United States
2 Mar 07
Im rather afraid of snakes too. I dont want them in my house. I dont like anything creepy crawly like that. I dont like spiders eather.

• United States
2 Mar 07
Hi Myworld_and_you, Does your definition of animal include spiders, and bugs? If so, it's centipedes and big 'ol, creepy spiders for me. Snakes, well I'm pretty neutral on them. Where I live, we have both rattlesnakes (which are very bad), and bull snakes (which are very good). The Bullsnakes keep the rattlers away. So, I welcome as many Bullsnakes as want to live in my garden. But centipedes??? Yuck! I can find no redeeming factor for those creepy, poisonous little nasty's.

• Philippines
2 Mar 07
Oh yes! Animals that I try to depict here are all the animals in the world including the land, water and sky animals. Everything. Oh, how do bullsnakes look like? :)

• United States
2 Mar 07
Funny you should ask. It's really ironic, but Bullsnakes and Rattlesnakes look nearly identical. And, since you mention sea creatures are included, I'll add that jellyfish freak me out. OK, what purpose could they possibly serve on this plantet? Have you ever been stung by a jellyfish? Ouch!!

• Canada
19 Mar 07
Snakes scare me a lot too, the thought of one crawling on my body makes me shiver!! However, snakes are nothing compared to sharks! I'm very scared to even go in the ocean out of fear that a shark will come along, I'm sure it's all in my head but still! Maybe I watched the movie "Jaws" one too many times...

• United States
15 Mar 07
Sharks and Crocodiles. Oh my...I get the chills just seeing them on tv! I find them fearful and mean lol. If i ever saw one up close, esp. while in the water, I think i'd die of fright! lol

• United States
26 May 07
The animal I am most afraid of is humans they have consistantly proved to be the most deadly and distructive animal ever.

•
25 May 07
I like snakes but I do know that lots of people are afraid of them. My brother in law has a big fear of them like you. I am not really afraid of any animals although I would definitely run the other way if faced by a lion on the loose.

• United States
25 May 07
We used to have a snake. When she started needing to eat things larger than rats we got rid of her. I absolutely Hate spiders! I don't know if they count.

• Philippines
19 Mar 07
Same with me friend, the look of the snakes frightens me a lot. There something in them that makes me feel bad. I guess their being poisonous that is enough to become fatal to us human justify it. I'd rather touch a crocodile than being near to a unconscious snake. I think even snakes that are not poisonous like rattle snakes it too frightful to be with.