Do you take pictures of more than just your family?

United States
March 2, 2007 8:18pm CST
I bought my wife a digital camera for christmas, and since then i think she's taken about 600 photo's. And as many as she takes of family, friends, pets and so on and so forth, she'll pull it out to take a picture of a beautiful flower, or the sky before a storm. We've ended up with some gorgeous pictures that we've actually framed and put on the walls. How about you? do you take pictures of more than your family?
9 responses

• United States
7 Mar 07
We love to take pictures of animals, nature, buildings, etc. I love clouds too. We love to look through the lens and capture things that look like art to us. We have an infrared lens too which makes for some cool creepy photos.

• United States
15 Mar 07
that infrared lens sounds awesome. my wife likes to take pictures of just about anything and everything. especially storms rolling in, or pretty sunsets. she's had several that i've thought, what the heck is she taking a picture of that for? and later it comes out awesome. so i just let her do her thing.

• United States
15 Mar 07
You should suggest she submit her photos to National Geographic and some of the photography magazines. They take submissions from amateurs - and give cash prizes if they use your image - plus you get your name in the magazine as well as the photo which is pretty cool!


• United States
3 Mar 07
First, that is a wonderful picture. Compliments to the wife. :) I love how you can see the blue clear sky just beyond the storm moving in. Very nice!!!! Yes, I was raised around the camera and take many pictures of many things. I have taken pictures of the first flowers to break through in the spring. I have taken pictures at a nature walk. I have taken pictures of pets. I have taken pictures of ice during our last ice storm. Even some leaves that were embedded in the ice. Very cool! I love taking pictures. If you apply yourself to seeing a shot and taking that moment to capture it...that picture can say so much. :) I was posting a picture of the week showing the work that I do...but I have been so busy, I have not had much time. But I should start again. As I am most content when I am taking pictures and working on digital enhancement or alterations.

• United States
3 Mar 07
Have you saved up enough for your new lens yet? I hope you let us know when you do. I like looking at your pictures, and you and my wife would get along well. she'll take a picture of anything that holds still..well, no. that's not even true anymore since the digital we've got has a setting for children in motion, that usually works for anything in motion. I'll tell her you like it. And we normally love yours!!

• Indonesia
23 Mar 07
oh my god... i've a digital camera...but i'm hardly take a picture with my family... feel so sinfull ---------------- www.konconebudi.com

• United States
22 Mar 07
Most of the pictures I take are of my cat. :) I take pictures of random other things too, like yards and flowers.

• United States
22 Mar 07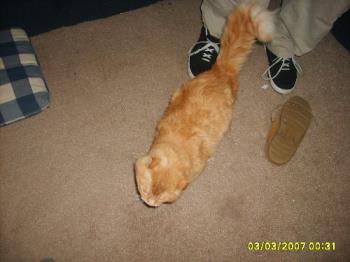 We take lots of random pictures too, although we've got quite a few of our pets. Hey, they're part of the family, too! I've got to show you our cat Mao, he's monstrously large. weighs about 21 pounds, and he's just..enormous. and it's not that he's fat, but just, big. With a lot of attitude, so he fits in perfectly with the rest of us. How many cats do you have? We've just got him and a long hair chihuahua named daisy that weighs less than half of Mao.

• Philippines
22 Mar 07
Whenever I go out on a trip and have a camera with me, I take photos of everything that I find wonderful. It could be a tree, a garden, a pet, it doesn't really matter. Clouds are very interesting subjects, too. However, I never had any training on this regard, so I am not in any way oriented on how to go about this interest well and good. Neither do I know if there is a book on photography which could help me out. Most ones I've encountered do not provide as much information as I need in one.

• United States
22 Mar 07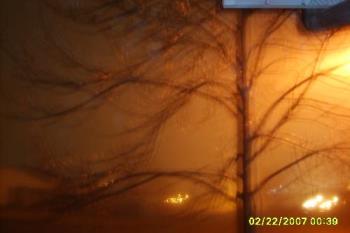 You don't really need training. a lot of these pictures were taken with a digital camera that we bought for about 150. it's kind of steep to begin with but if you take any volume of pictures, it pays for itself. LOL YOU decide which to keep and which to get copies of. Or in our case for our families, numerous copies of! Its just a matter of taking pictures of what you like, and what makes you happy!

• United States
16 Mar 07
I like to take pictures of everything. I have taken pictures of "no smoking" signs and done some editing with them. I also like to put my artwork up on another site called deviantArt. You can sell your work there as prints and make some money as well. I loved this picture that you posted and would recommend that your wife try out deviantArt. I am known as sororravn on that site as well.

• United States
21 Mar 07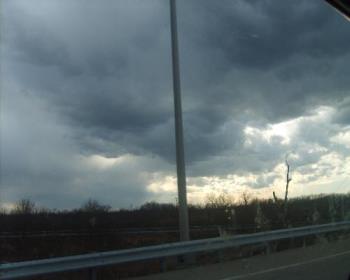 Thanks for the tip. She's really into her photography. I mean we don't have a lot of equipment or anything, she just seems to have a good eye for contrasts and interesting pictures. That one was actually taken from the parking lot of a convenience store. LOL you never know where you'll find a good one!

• United States
3 Mar 07
Yes, I take pictures of my kids and grandkids. Yes, I take pictures of all kinds of other things,also. There's been many times that something catches my eye and I wished that I had my camera. That's frustrating. To think of all of the missed photo ops.

• Grand Junction, Colorado
3 Mar 07
Beautiful picture kudos to the wife. I recently got a digital camera for Christmas and have been taking pictures of everything also. Now since joining mylot I find myself taking photos of gas station signs and grocery stores, the carts ect, in hope of being able to upload to discussions. I have really gone over board. I even have a folder slotted for mylot pictures to upload to future discussions, LOL. When I jump in I jumping full force. Will I find the help I need, I fear not. I will be going out tomorrow taking pictures of things on my list. Wish me luck I'm waiting for a rainbow to appear and had hoped that it would have appeared yesterday but no luck. :) Happy mylotting.

• United States
5 Mar 07
LOL i have to laugh because, *sighs* i, too, have a mylot pictures folder. That's so funny. And we take pictures of everything. we actually got one yesterday at my father in law's church, it was a stainless steel containter with a spigot and bowl and had a sign on it that said "holy water" i laughed so hard i thought i would cry. i think that one's going to turn into a future discussion somewhere down the road!

• United States
3 Mar 07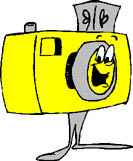 I like to take pictures of everyone and everything. I love all the family pics but I also love taking pics of out pets and parties. I love nature and scenery. I couldnt tell you how many pictures that we have taken. I couldnt even guess. I really think the digital camera is the best invention.

• United States
3 Mar 07
LOL i like your leggy camera. We added up the costs of all the pictures we've taken, what the cost of film and developing would have been and decided that it's already paid for itself, not counting what it costs to get reprints from film. Plus, you get instant gratification on the pictures you take, and you get to decide which one you want printed and how many you want.