best place in the philippines during holy week

Philippines
11 responses

• Philippines
3 Mar 07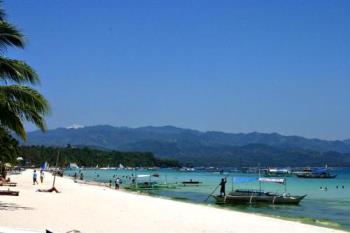 i was in boracay last year... god you know its a flood of foreigners and people are everywhere but its worth it.. why not go other places, like mountains and other beaches like here in cebu, malapascua is good... and bantayan island as well.. and im planning to go to palawan, its one of the aim, since i went last year as well.. i love it there specially the food, and the el honda beach.. hmm... its really up to you, and decide well.. good luck and have a good time^_^

• Philippines
4 Mar 07
thanks you... take care and have a good vacation.

• Philippines
4 Mar 07
well,the best escape from boredom during holy week is is batanes..very good climate,good food and there's no annoying PABASA,because usuallya pabasa tends to disturb sleeping people in the community.i find it annoying,so to escape from it,i would go to batanes,specially to MAHATAO where the people are quiet and the beaches are clean.you could almost see taiwan island from there..it would be a great escape.

• Philippines
5 Mar 07
wow..batanes. i could almost feel the serenity from your description alone. that would perhaps be one great place to meditate and escape city life..and just get away from it all. i hope i would have the chance (& budget) to go there. thanks for your comment. :-)

• Philippines
4 Mar 07
I love spending the Holy Week with my family in the province. Every year, we have "pabasa/pasyon" (sorry, i don't know the english word for that). We're so busy preparing for it and equally busy serving and entertaining guests. :)

• United States
4 Mar 07
well, i've seen that you're more of having fun and relaxation this holy week, thus the beach is really a good place. i would recommend white rock in subic or the hundred islands in pangasinan. but if you wanna feel the holiness of the season, i recommend you go to bataan. they observe the holy week pretty serious there - they got 'pabasa' (singing the story of jesus' passion), grand processions, the commemoration of the stations of the cross, the real flagellations and nailing (yes, bloody). their way of celebration just gives a different feeling and view of penitence and faith.


• Philippines
3 Mar 07
I think most of use prefer on spending most of our holy week on beaches, and I think it would be such a great fun to spend with the whole family or even friends. Well here, almost half of our barangay are planning on going to the beach, they can bring foods to share with others and only have to pay for the rent on our transportation and entrance fees. I am somewhat thinking on what to do right now, because some of my friends are planning for a hiking on Mount Makiling. To which I think would be more fun and adveturous for me, because I haven't yet experienced mountain climbing on Makiling. I think aside from going to beaches, mountain climbing would also be a good experience. A new thrill and excitement to venture into, a better change for the usual summer escapades..

• Philippines
4 Mar 07
beaches are really good but since it's holy week, remember to also have quiet time to pray and meditate..i havent tried mountain climbing before. i guess im not that adventurous. ive only done hiking not climbing in makiling..your barangay must be like one big happy family. thanks for sharing!

• Philippines
3 Mar 07
I loved to visit different churches especially in other province (Vista Englesia). Mostly i spend holy week on our province on Quezon.

• Philippines
3 Mar 07
Holy week is not for vacation instead it is dedicated for GOD. The best place during holy weeks is to stay at home, go to church and spend quality time with your family.


• Philippines
6 Apr 07
WELCOME TO MYLOT... for me the best place is home...next is church..for visita iglesia with your loved ones...

• Philippines
21 Mar 07
Instead of going to the beach, I think the best places to visit during the Holy Week are churches and other religious places such as Antipolo Church, White Cross (also located in Antipolo.. They've got life-size Stations of the Cross and Mysteries of the Rosary up and down the hill.. It's a nice place), Christ the King in QC, Manila Cathedral, Manaoag Church, etc.. etc..