She is a saint, isn't she?

India
March 3, 2007 8:17am CST
This is real life story. 5 years ago a 9 year old girl named Reshma in a poor rural village went to visit the new born child of her neighbor whose previous new born children all died. She was shocked to see the mother of the new born trying to suffocate the new born child with a wet cloth. The mother was startled when she saw Reshma and told her that all her previous children were killed this way since all of them were girls. Reshma couldn't hear anything after that. She told the mother of the child"If you give me the child I will look after her". The mother promptly gave the child. Reshma took the new born to her house and then went on to her mothers house in her village. Though her family was poor with the help of her mother she raised the child whom she named Surya.She raised the child mostly by her own while going to school and studying. Now she is 14 years old and needs help since her father has left her and her mother for another woman. She won't even think of leaving the child in a orphanage and nor in my opinion should be asked to. Many organizations and people who were amazed by the compassion and love shown by this little girl have now come forward to help this girl.Reshma still says "My beautiful daughter I am not going to leave you". Regards
7 responses

• United States
3 Mar 07
Kindness is repaid with kindness. I think that everything will work itself out.

• United States
3 Mar 07
That is a wonderful story. How can someone kill there own baby? I can't even see if they are poor but just because wasn't a boy that is terrible. That little girl needs a lot of credit. Takes alot for kids to take on something like that.

• India
3 Mar 07
Family pressure or financial difficulties make them do these kind of things. The horrible aspect of the story is that this happened in our state which is the only one in our country where females out number males. I am frightened to think what might be happening in other parts. Regards

• Greece
3 Mar 07
What a story!!I have some bad personal experiences so I'm very sensitive with anything have to do with children,for this your story really touch my heart.There is no excuse to any mother to do something like this or anything to hurt her child.I don't care if she (or any other woman)was poor,she afraid her husband or she was unmarried.......there is NO EXCUSE.From the other way Reshma she was the small girl's angel for sure.God bless her and give to her only happiness.Thanks for the nice topic.

• India
3 Mar 07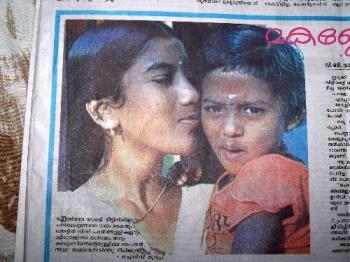 The mother was married but she said she couldn't "afford" to have a girl child in her family. A lot of people particularly in the rural poor here consider a female child financial burden. It is mainly with the amount of dowry they have to give at the time of her marriage. I looked for pictures of her in the internet. Unfortunately I couldn't find any since this is very much considered a regional news by the mainstream media. But I am uploading a photo of her and the child I took from the newspaper. Regards

• United States
3 Mar 07
That was wonderful what Reshma did for that baby. I cannot understand how or why a woman (who has a daughter instead of a son born) could ever kill her own flesh and blood! Is there no law in the country where Reshma is from?! If that woman would try something like that in America, she would be imprisoned for being a killer. What kind of a country lets people get away with that kind of behavior?! I wonder if that killing mother ever thanked her own God that her own mother didn't kill her when she was born. That little baby was really lucky that Reshma intervened.

• India
3 Mar 07
There is law but the case wasn't brought to light until now. The mother who tried to kill her child I think will be arrested shortly. And she will get the punishment she deserve for her actions. Female foeticide is a major problem here. The parents from middle and low income families consider it a burden to have a female child because of the dowry they have to pay at her wedding. Regards


• Australia
4 Mar 07
She is a special girl and that is such a heart warming syory. Thank you for sharing it with me.

• United States
4 Mar 07
your story is scary and touchy indeed . The morther must be " Pan-char-pi " nation ,right ? As far as I know if a child were born is girl ,the morther cry . If a girl going to marry someone ,her family have to pay money,car,house according the wealth . It's really too much as I know . Marry someone who is not " Pan-Char-Pi " will be neglected by the whole family ,relative , friend .... Regarding Reshma , she must be angle .