Banana Walnut Loaf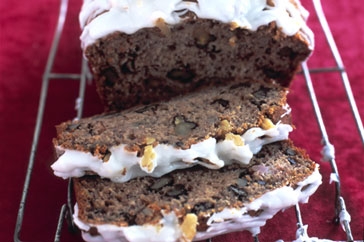 Australia
March 3, 2007 3:46pm CST
Ingredients (serves 8) 2 cups White Wings Self-Raising Flour 1 teaspoon bicarbonate of soda 1 1/2 teaspoons ground cinnamon 2/3 cup caster sugar 1 cup walnuts, roughly chopped 1 cup milk 2 eggs 2 tablespoons extra light olive oil 1 cup mashed banana (see note) Icing 1 1/2 cups pure icing sugar 2 to 21/2 tablespoons lemon juice Method Preheat oven to 180ºC. Grease and line a 6cm deep, 10.5cm x 20.5cm (base) loaf pan. Sift flour, bicarbonate of soda and cinnamon into a large bowl. Stir in sugar and 2/3 cup walnuts. Combine milk, eggs, oil and banana in a jug. Add to flour mixture. Stir gently to combine. Spoon mixture into prepared pan. Press remaining walnuts into top of loaf. Bake for 50 to 55 minutes or until a skewer inserted into the centre comes out clean. Stand in pan for 10 minutes. Turn onto a wire rack to cool. Make icing Combine icing sugar and enough lemon juice to form a thick paste. Microwave, uncovered, for 20 seconds on HIGH (100%) power or until warm and runny. Pour over cooled loaf. Allow to set before slicing. Serve. Notes & tips Note 2 large bananas should give you 1 cup mashed banana
4 responses

• United States
4 Mar 07
This sounds like an awesome receipe. Thank you for sharing this with us. I will be making this for sure.

• United States
6 Mar 07
I appreciate the best response, thank you.

• Philippines
4 Mar 07
goodness., another yummy treat!!! like this one... great recipe for everybody... thanks for always sharing your recipes my friend... muahx

•
3 Mar 07
Thanks Kathy Ross just adores Banana in anything ,I Will definitely give this one a go , I will make it as a surprise some day for him to come home to when he has been to town xx

• United States
3 Mar 07
Boy this sounds good. Thank you for sharing this with us. When I get a chance I think I will try it. Have you eever heard of veg pizza. Its not what you think. You get a roll of cresent rolls, one package of ranch dressing mix, and sour cream and some fresh veggies. Spread out the roll onto pan like pizza doe. Cook for 10 min. Get the sour cream and ranch mix and mayo amd mix it all together until smooth. Then spread ot over the crust. Then all you have to do is cut up all your favorite veggies and spread them over the pizza, cool in refrigetator and eat. I love it, my family has tried it and loves it. Great for summer time eatting.