Do you believe in LOVE at FIRST SIGHT?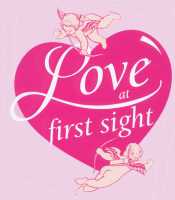 Indonesia
March 4, 2007 2:52am CST
Do you really believe that actually happen? I do believe because it happened to me. But unfortunately it wasn't last long love. Does it still consider as love at first sight or not?
7 responses

• Italy
6 Mar 07
first sight is when you fall in love at first time you see one? if yes, i believe, it happen to me and i'm very happy, and know me and my girl we are near to finish to build our home, and after it's ready we will plan a marriage, so i'm feeling luky to have know this girl

• Indonesia
7 Mar 07
Woo, you sure a lucky one dude ! Would you tell me how that happen ?

• Italy
8 Mar 07
yes, i saw her on a disco (disco how play new wave and punk rock music), i danced near her for a lot, at the end of the night i give her my phone number, somedays after, they star to sen me sms, and after i meet her again in disco and we start to meet in some pub or concert, so we have upgrade our relationship day by day :D, and i can't never forgot the first time i saw her, and for her is the same

• Indonesia
9 Mar 07
Wow, that's a nice meeting way. It was your crush at your first sight right? Disco Forever... and what is your theme song?


• Philippines
4 Mar 07
I believe its more of crush at first sight. You can't really love a person without knowing him/her. But i believe that you could eventually fall in love with that person after knowing his/her personality.

• Indonesia
4 Mar 07
Yes.. yes. this is the thing I never thought before. It is crush at the first sight, not love at the first sight. Thank you girl, you deserve to be best responder.

• India
12 Mar 07
No. we have to anderstand the charectors of the person and then only we have to believe love. First sight love is just facial attraction.

• Romania
9 Mar 07
There is no love at first sight but there is physical attraction is what generates into love later.


• India
4 Mar 07

Yeah, I too believe. But,we should get slight change in name, it should not be called as love...it may be craze. We just feel attracted towards somebody in first look...for me it can't be love. And as what u've said "unfortunately it wasn't last long love" is not unfortunately. Its fortune is that only, in most of the cases.