Don't you just HATE hairballs!!!!! Does anyone have a sure fire remedy for

United States
7 responses

• United States
8 Mar 07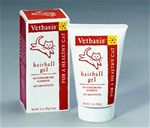 Depending on which end of the world you live in - its either becoming Spring or Winter. Seasonal changes bring new coats and lots of haor balls. Go to your local store and buy this hairball formula malted gel in a tube and either put some on their front foot (they'll become indignant and begin cleaning it up) or they'll lick it off your finger instead as if its a treat like mine do. The hairball formula degreases the hair in their stomach and it'll come out nature's back door better than the gross gack-up on the floor and furniture. There are pills, capsules, liquids and foods on the market, too, but the gel is easier to give.

• United States
9 Mar 07
Surprisingly, this particular cat won't lick it off my finger. I do put it on his paws, but have to be careful how I get it on there --too much of a blob and he shakes his paw and it ends up on the wall, lol. "Nature's back door"... very nicely put! ;)

• United States
8 Mar 07
I use vasoline..it's safe inexpensive and effective. I just dip a Q-tip in the vasoline and smear some on the top of their paws..they lick it off..it doesn't hurt them. They will pass the hairball..and not throw them up. I do it whenever they start acting like they have one.

• United States
8 Mar 07
I suppose I should be more diligent and give it to the cat regularly, not just when he's gacking... I'm really afraid that one will be too big and get lodged and not be able to go either route!


• United States
6 Mar 07
Oh, what a hard boiled egg you are married too, lol.

• United States
5 Mar 07
There are a few things you can do to limit the amount of hairballs your cat has. 1 is to give them a bath with hairball controll shampoo. I use it on my cats and it not only makesthem smell really nice but helps remove some ofthe excess hair fom there coat. Also there is a specal comb you canget to remove the excess fur from your cats coat. I know how you feel 1 of y cat sheds al lthe time. I feel like I am constantly combing her fur to get rid of the excess fur and I am never done.

• United States
6 Mar 07
Thanks! I have never heard of that shampoo before. Mine is just a plain old shorthair siamese, not any big poofy persian so you wouldn't think that much would be going down the hatch, lol, as I hardly ever see him grooming himself that much. He adores being combed though.

• United States
5 Mar 07
You can put Vaseline on their paw and they will lick it off, but that has the same result as the tube stuff. I know you want a home remedy, but the best thing I have found for our male cat are the cat treats. They are called "Friskies Hairball Remedy Treats for Adult Cats" and come in a soft and hard variety.

• United States
5 Mar 07
That's what I got --the hard variety. Maybe I'll try the chewy soft ones.

• United States
5 Mar 07
well i'm not sure how to help you, having a cat that doesn't really cough up hair balls, but i heard that you can feed certain treats that make them cough up hairballs less. Also maybe brushing your cats fur would help? When I don't brush mine it gets all crazy X_X sorry i'm no professional D:

• United States
5 Mar 07
Thanks for the reply. I just bought some of those "hairball treats". My cat tried one and left the rest. This IS a problem as once he gacked up a hairball right on my while I was in bed!!!! At least the blanket could be washed and it wasn't the carpet, but it's not the kind of thing you want to wake up to at 5am. When we hear the "gacking" noise we rush and pick him up and get him on the tile, lol.

• United States
5 Mar 07
I have two cats, and only the long hair cat has that problem big time. I brush him alot, he still throws up. I have given him laxatone, from the tube, and he throws up. It is natural for them to vomit hair balls, some cats more than others. If it is hair ball, it is fine. If it is undigested food, then it is an allergy most likely. Get a quality food with no by products or dyes. Make sure the first ing. is chicken, and second is rice.

• United States
5 Mar 07
Oh, it's a hairball all right, lol. Thanks for the reply.