What is the cost of One litre of milk in your city?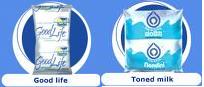 India
March 4, 2007 11:15pm CST
Bangalore has seen a regular increase in the prices of pasteurised milk since a few months. Poor slum dwellers are not able to feed their toddlers, as they cannot afford it. Its really pathetic, to see such a state of affairs in a progressive society. Milk today from the Govt. Diary costs Rs.21/- a litre. How about your city?
6 responses

• United States
5 Mar 07
Milk here isn't sold by the liter, but a gallon of whole milk is around $3.50 and 2% is about $3. That's in Cleveland Ohio, USA.

• United States
12 May 08
On the East Cost the prices have risen a little; a half gallon is about $2.00 for whole milk, a gallon is about $3.50. Chocolate, blended, soy and organic are higher in price but that has always been the case. There are only a few farms that we can buy raw milk from but that is only when we are out in the country or need it for a specific recipe.

• Israel
4 Apr 07
it is so sad to hear about the situation you described bangalorean, i do not know what i would have done if i would have been a mother that knows that she can not offered milk for my babies. i hope the situation will change so that all people can buy this basic thing. in israel a 1 litre cartoon of milk costs about 5.70 new shekels and it is about 1.3$. it does not matter if it is a whole milk or skim milk it all costs the same. the price will go up only if you want flavored milk like: choclate,vanil,banana and so on.

• India
5 Mar 07
In our city dairy milk is Rs.20/-a liter.So many people in baroda and bharuch take milk from cowboys staying near by them they sell milk 15 to 18 Rs.per liter.but that milk is not pure or pasteurised,poor people have to perchase that milk because it is cheaper than dairy milk.