How do you know.....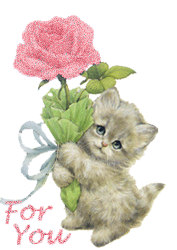 United States
8 responses

• United States
5 Mar 07
I read an article a long time ago in a cat magazine.If your cat walks around with his tail up in the air all the time,he's a happy kitty,but if it's drooping down toward the floor,he's either ill or depressed.

• United States
5 Mar 07
That is neat. I never noticed that they walk arround with there tails up most of the time. Thank you for that info.

• United States
1 Apr 07
you are quite welcome and thanks for the best response . I hope you and the kitty are doing quite well

•
5 Mar 07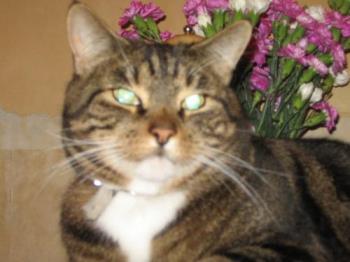 Moomin lets me know she is happy with her purring and "singing" she is very vocal and very affectionate. I always know when she isn't a happy cat, she curls up under the table and refuses to come out for fuss until she is over her mood.

• United States
5 Mar 07
My cats purr when they are especially happy. And, Marshmallow gets really playful and has a certain expression in his big, blue eyes that makes me smile. Powder Puff has very distinct temperaments. When she's happy, she purrs and rubs her head up to my mouth to kiss her. When she's angry or annoyed, she hisses and swipes her paw at me. Bootsie purrs and tries to lay on my chest, which is not comfortable because he weighs about 16 pounds.

•
5 Mar 07
I think it's the permanent smug look on her face that gives it away! She just gives off a happy aura, she always looks content and purrs happily away. She's got me and my partner wrapped around her iccle fluffy paws, so it's no wonder really. If i led the life she does i'd be very happy too!

• Canada
5 Mar 07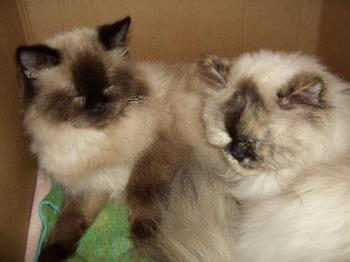 I can read my cats for the most I believe they are happy. Cats go through all kinds of emotions. You must be able to tell when your cat is angry. I have also seen my cats get depressed and their whole personality changes. Thank God they have come out of this. I think if you love your cat and take good care of it,it should be a happy cat.

•
5 Mar 07
My cat has quite a few facial expressions, I'm pretty good at reading cats, depending on where thier whiskers are standing, how wide or narrow the eyes are or even if they have a furrowed brow. My cat has many expressions, but when she's happy, she's wide eyed, whiskers relaxed but slightly forward, she may purr, but she does this sometimes when she wants food, so I don't trust the purring, she's a little bit cunning:-)

• United States
24 Mar 07
I guess you know by the way they act. Because I have a cat and the way i know that she's happy is the way she purrs, and needs you to pet her.

• United States
5 Mar 07
I have 4 cats and I know that they are happy. How could they not be happy - they have 2 very nice people who wait on them and spoil them whenever possible. lol One of the ways that I know that they are happy is because they sleep on their backs, and I read somewhere that cats won't sleep on their backs unless they feel very secure.