Kidney Failure

Philippines
March 6, 2007 1:41am CST
My husband died of kidney failure in May last year. My son underwent kidney transplant in August 2004. I have seen a lot of people suffering from this ailment. This is but a little information so that we may know what to do. Healthy kidneys clean the blood by filtering out extra water and wastes. They also make hormones that keep the bones strong and blood healthy. When both kidneys fail, the body holds fluid. The blood pressure rises. Harmful wastes build up in the body. The body doesn't make enough red blood cells. We develop fatigue, nausea, and loss of appetite. When this happens, we need treatment to replace the work of our failed kidneys, either dialysis or kidney transplant. Our kidneys play a key role in keeping our blood pressure in a healthy range, and blood pressure, in turn, can affect the health of our kidneys. High blood pressure, also called hypertension, can damage the kidneys.
7 responses

• Philippines
6 Mar 07
Thank you for this information. As a student nurse, I do see a lot of people during my duty in hospitals undergoing dialysis. It always bothers me to know that a certain dialysis patient would go home with his life changed. I mean if you are retired and your lifestyle is already sedentary, it would be bearable but if you are not used to sucha lifestyle then you would have trouble adjusting to a life of constantly undergoing dialysis.

• Philippines
7 Mar 07
I'm interested to know things about the kidney. I have been feeling that I have a kidney disease because in some period of time when I was younger, the color of my urine became reddish like blood. I was then in the province and we boiled some leaves, sort of herbal, and my urine became clearer. I did not consult a doctor. I'm now afraid of this kidney failure thing. I hope that I would not suffer from such ailment. Thanks a lot for the information.

•
5 Apr 07
The best thing is to get it checked. It could be something else. you never know. It could be hereditary or if you have hypertension. The sooner you get checked the better, you could prevent for the worst case.

• Philippines
6 Mar 07
Another very good information. I am afraid I'm feeling so many things I do not understand. My blood pressure is sometimes high but sometimes low also. I see now the importance of the kidneys. I hope that my will not be affected. Thanks a lot.

• Philippines
8 Mar 07
Thanks for the information. I am not feeling well and I think I have problems with my kidneys. I'm hard up in urinating. I feel that I'd like to urinate but nothing comes out. I don't think I have high blood pressure for my normal is 110/70. If that goes up, I must really be not feeling well.

•
5 Apr 07
The question of how often you urinate and how much relates to kidney failure. I should know, the nurse ask me every time I go to dialysis. So it is very important to get checked. Better safe than sorry.

• India
9 Mar 07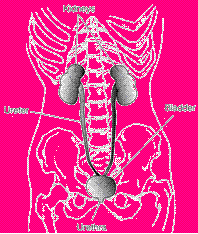 Most kidney stones pass out of the body without any intervention by a physician. Stones that cause lasting symptoms or other complications may be treated by various techniques, most of which do not involve major surgery. Also, research advances have led to a better understanding of the many factors that promote stone formation. Surgery is not usually necessary. Most kidney stones can pass through the urinary system with plenty of water to help move the stone along. You can stay home during this process, drinking fluids and taking pain medication as needed. The doctor usually asks you to save the passed stone for testing.

• South Africa
19 Mar 07
Sorry about your husband and good luck to your son with his wonderfull gift of life, may it last for ever. I am also suffering kidney failure and had two transplants already. The first never worked and the second gave me four wonderfull years before it failed. I have been back on dialysis for over five years now and it is not pleasant. My advice to all people is to go for regular check-ups to the doctor. It is not a lot asked if you concider that a serious ailment could be detected early and treated properly. If you don't go for these check-ups, you will go to the doc when you are not feeling good and then it is usualy too late. U are feeling not good because the ailment has affected your body and caused damage.

• Philippines
25 Apr 07
You are very strong to undergo all of such things. My husband and my son were the patients but I was the one who seemed to suffer more than them. I hope that you can still have many more years. Do take care of yourself very well. Thanks a lot and may God bless you.

• United States
26 Jun 07
I can really feel the amount of pain u have undergone. U must be a very strong person .Keep it up. My mother had a kidney failure and she was old and weak for transplants so our docs advised to take up this peritoneal dialysis. This is a no pain dialysis which can be done at home with or without a family members help. The frequency of which should be determined by ur doctor. This was really effective for my mother and she went around doing all the day to day chores without much effort.