Don't you think Oprah Winfrey should be receive the Nobel Peace Prize?

United States
March 6, 2007 11:25am CST
I think there's some action being taken to nominate Oprah Winfrey for the Nobel Peace Prize in 2007. I, for one, believe she deserves such an honor, because she is a living example of what is possible to achieve by working hard and focusing on good works. As we know, Oprah Winfrey is responsible for numerous charitable events and programs which have helped so many needy people; not only in America but elsewhere in the world as well. Recently, Oprah opened her new leadership school for girls in South Africa for many young girls to attend there. She even promised to make it possible for those who graduate from her school to continue into University education. I know these things are thought to be "easier" for those who have the kind of money Oprah has, but she goes way beyond the cash contributions. Oprah is actively engaged and involved in her programs because she is so passionate about helping people.
5 responses

• United States
10 Mar 07
She absolutely should! She has done SO much for people EVERYWHERE. It's funny how the media shows us all the horrible things going on, yet the great things going on get hidden on page 10 of the newspaper. I vote for her! :)

• United States
15 May 07
Just thought I'd add another note to this thread: Oprah Winfrey was just given an honorary Doctor of Humanities Degree by Howard University! She SO deserves that, and more! I'm so glad for her, and hope this can help provide push to get her the NOBEL PEACE prize, because I believe she deserves that and more.

• United States
9 Mar 07
She would definitely get my vote. Her South African school is an inspiration to us all. I remember there was such a controversy over not having a school like that for American children, but I don't blame her. Some of them don't seem to take education seriously. I'm glad she's helping out the poor of South Africa. Not only that, but her charity throughout the US, car giveaways, scholarships for young boys, etc. really have made her such a precious human being.

• India
6 Mar 07
well even if she doesnot get one , she will be great person always to me , because she is so honest , she is amazing at whatever she does and has explored all tiny to big aspects of a common mans life .

• Philippines
6 Mar 07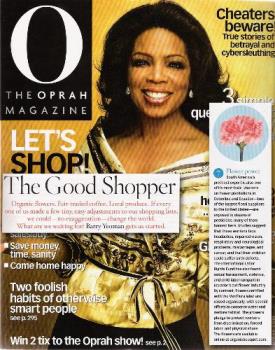 I believe she deserves it more than ever.HEr work especially in Africa is amazing.She has inspired so many in the world by her action,her words and her generous heart.SHe is simply the BEST!

• Janesville, Wisconsin
23 Jun 07
Oh Wow, Definately. She has done so much good, and connected the public with people who really needed it, as well as been a positive inspiration, I agree and I do believe Oprah would deserve this. - DNatureofDTrain