Cats are very special beings!

United States
March 6, 2007 5:29pm CST
I don't think enough can be said about how 'special' cats really are! Anyone who has ever been a cat-owner/lover can attest to this, I know. Some of the things that I notice are "special" in cats are: -They know when you're not feeling well, and often try to offer 'comfort'. -They always know where "their people" are! -They know what "their people" like. -They can 'read your mind'! -They communicate very effectively. -They rarely complain unless they're ill or injured. -They are self-sufficent and self-maintaining, other than litter management. -They accept you for whoever, whatever you are. Any others?
10 responses

• United States
7 Mar 07
Cats are angels in disguise, here to teach us about unconditional love.

• United States
7 Mar 07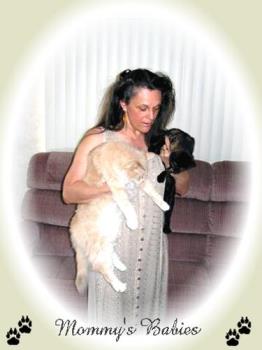 Wonderful post. I'm giving you a + rating for it. What you said is so true. All I want to add to it is that they allow you to live in their home, they are clean and very inteligent, and can learn tricks and are so affectionate. I love them. Here are my two furry babies.

• United States
14 Apr 07
Thank you for the best response sugar. I appreciate it. And, thanks for liking the pic. I spoil my furry ones. I love them sooooooooooo much.


• United States
8 Mar 07
Loving one unconditionally is something we all could learn something from. They always know when a cat person is in the room.

• Canada
7 Mar 07
I agree with all of this, but I'd like to add something. My Cat, Tara, knows when someone from the Spirit World is around me. She'll follow something I can't see around the room and purr deeply for no reason at all lol. I know that people from the Spirit World visit me frequently, but to see that my Cat could see them too really confirmed that for me. She isn't much of a lap cat though and she doesn't really bother too much with us if we're ill, but thats how I like it. I don't like being comforted by having a face full of fur when I already feel crabby and bothered, I guess thats the way I am, and it suits both me and the cat LOL.

• United States
7 Mar 07
Wow! Sounds like you're more 'connected' than many. What is it like when people from the Spirit World visit? I can't say I've ever experienced that, at least not so I knew that's what it was. I know some of what you mean about cats looking around at "nothing", but I usually associate that with their keener senses (hearing, smell, sight)....they may hear, smell or even see something that we can't. Thanks for the post. Interesting! Thx for the post.

• United States
7 Mar 07
My cats are my world next to my kids of course. I call them my furry kids. They are very intelligent, affectionate and nurturing. It is a proven fact that pets help with quality of life and reduce stress levels. I have always had cats since I was little. They get to know your ins and outs, ups and downs and just seem to wiggle their way into your heart. A warm Purr for all the cat lovers out there!

• India
7 Mar 07
used to give my cat a bath once every two weeks to once a week, sometimes more often, but i used mostly warm water and only baby shampoo occasionally or for bad spots. it was necesary as he had fairly long fur and would get poo on his "bloomers" as i call them ;-) and he'd get litter caked in his inch long foot tufts. he didn't get dry skin at all, and he LOVES water. but it's not usually

• Ireland
7 Mar 07
The thing I think is really sweet about my cats is they always know if I am sick or uspset and they will come and sit with me as though they are trying to cheer me up. It always reminds me how kind they are.

• United States
7 Mar 07
I certainly agree. I am a real catlover. :o) Cats can also tell right off who's a catlover and who's not. My husband doesn't like cats much at all, he used to. He had a really nice siamese when he was younger, and he loved that cat. But a dog killed it, and after that, well he nearly hates cats. Which is hard on me, I've had as many as 18. I only have 2 now, and I can't keep them indoors anymore. But I will always be a cat lover. They are very special. I heard somewhere once that dogs are MAN's best friend, while cats are Woman's best friend. :o) lol I tend to agree. Dogs will do whatever you tell them, cats do what they want, when they want, and they will come if they want to. And yes, they give unconditional love. We could do well to imitate them. Jess

• United States
7 Mar 07
Excellent point, JHAvon....they DO seem to know which people they can trust and which they can't. On the mark with the differences between cats & dogs, too. I love dogs, but I can't say quite as much as I love cats. Dogs don't seem to have the same 'connectibility' (that's a word, right?) as cats do. Dogs are a bit more obedient, as you say, but still I'm partial to cats. Thx for the post.

• United States
7 Mar 07
unconditional love.. i love my cat..she's my world :)

• Australia
6 Mar 07
I agree with all this but I also think cats have a a very special connection to the spiritual, have you ever seen a cat almost following something around the room, watching something but there is nothing there, have you ever seen how a cat can look straight into your eyes but it seems they are looking further, straight into your soul...I honestly believe there is so much more to the cat than we know.....I think we will find out in our next journey.