kepping on blankets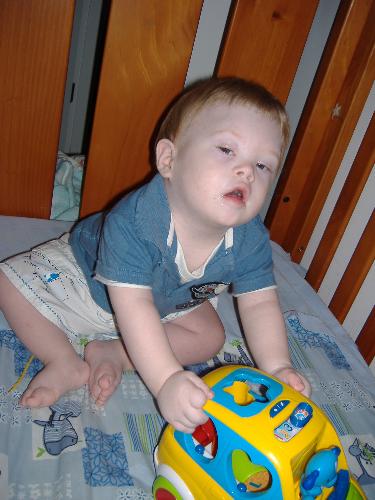 Australia
March 6, 2007 5:31pm CST
I have a 14 month old son and he wont keep his blankets on. I have tried everything, tucking in the sides, wrapping it around him. He just rolls around too much in his sleep. I just use a light cotton blanket so he does not get too hot. Then later in the night i use a thicker one still cotton. So it cant be irritating him. Any ideas!!!!!
5 responses

• Canada
6 Mar 07
Have you thought of a sleep sack? check out this website www.babyinabag.com (I am not affiliated with it) and a few other websites that offer this alternative to blankets. The reason I thought of it was that I visited a young relative with a baby and saw such a garment in her house.

• Australia
6 Mar 07
Thankyou for your sugestion. But i do not like things that resrain legs or that. I know that there is still room to move around and all i just do not like them. Thankyou very much for your response and idea.

• Ireland
7 Mar 07
Sleep bags are great, without them my 15 month old would be frozen, There like sleeping bags with wide shoulder straps so they can move around easily, Their normally quite large at the bottom to allow for leg movement, I highly recommend them.


• Australia
6 Mar 07
If he doesn't want to keep his blankets on, don't force him. The best thing to do would be to dress him in warmer clothes so that when he does kick them off, he won't get cold and get sick from it. My niece did the same thing, but she grew out of it very quickly. Good luck!

• Australia
7 Mar 07
Thankyou for your input and i do dress him up warmer the only problem is he starts to sweat. So i am just thinking of putting a jumper and long pants on him when he is asleep. He is hard to wake up of a night so should be easy. Thankyou for responding to my discussion.

• United States
2 May 07
My son will be a year old this month. He doesn't like keeping blankets on him either. I just keep a light blanket in there and I just put long sleeves, pants, and socks on him if it's going to be cool that night. If he gets too cold then he'll pull his own blanket up on him (my son). So I would just dress him warm for the night and keep it warm in the house and he should be fine.

• Australia
7 May 07
Happy birthday to your son. Thankyou for the comment yes that is what i do now as soo many people have sugested it to me. Thankyou for responding to my discussion.

• Australia
4 Jun 07
I agree with the ideas for the sleep sack. The baby still is able to move his legs around freely and there is no way he would be able to get out of it. I used them for all my children when they were young :P

• Canada
4 Jun 07
All my children were like this and wouldn't keep the blankets on and I used to worry in the winter that they were going to get sick so I started dressing them warmer in the winter and cooler in the summer so that if they didn't keep the blankets on that hopefully they wouldn't get sick . On really really cold nights , or when the power would go out and we wouldn't have any heat , I would put a skidoo suit on my children to keep them warm . I really don't know anyway that you can keep the blankets on him as my two year old still throws them off herself all the time .