bangladesh beat newzealand..wats ur opinion...???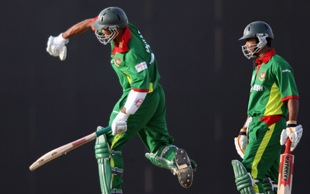 India
9 responses

• India
7 Mar 07
Well it is not the first real upset in the world cup as it was only a warm up game which didn't even have ODI status. So i feel new zealnd took it too easy as they might have been trying to figure out their plans for the world cup which starts infew days from now. But yes i always knew from ther tiem i got to know that banglaesh was in India's group that we have to reallyweary of them and can't take them lightly as they have had beaten sides like australia and even India when we toured bangglaesh for ODI series only winning 2-1. So India will have to do play at their best esp. on march 17th to defeat bangladesh as they have the capacity to upset top teams and India is known to start slugishly in world cups. So in fact it is good wakeup call for Indian team i must say. Now it is upto indian team to note of it and deliver when it matters most.

• India
7 Mar 07
A lot of teams could cause upset but Bangladesh was always going to be the foremost because they have stunned Australia as well and it is not going to be easy for India to overcome Bangladesh easily. There bowling is the strenght and they can back that with strong batting as well. I think Scotland and kenya also were on the edge of getting victories and so I think that this is a cup of thrillers and upsets and no team should be under-estimated.

• India
7 Mar 07
i dont think this wc u see upsets well bangladesh beat nz is not a big deal . well nz batting line up is worlds most unpredictible line up they can chase 350 in one day and next day they can all out in 100 . and dont mind slow wickets in caribbean , teams from subcontinent like ind , sri , pak and bag. they can do well coz these teams can play spin very well and all the teams have gr8 spinner. and if u look the score card of bag vs nz , razzak took 4 wickets and u must know he is the best left arm spinner in the world . so u dont underestimate any team in wc from subcontinent and those teams u r used to play in fast wickets they will have problem . plz take a clear look the pic u post that was of south africa not bangladesh

• India
7 Mar 07
No I dont think so.There will be no upset in this world cup like previous world cup.

• United States
7 Mar 07
there was much hype over the newzealand team after their victory over the aussies in the recent series.Some experts even predicted that newzealand will win the world cup under the leadership of fleming.they had over confidence and estimated bangladesh low and hence got the result.Hope they will correct from this warm up loose.So bangladesh has become one dark horse just like kenya for the cup.

• India
7 Mar 07
Is taht my goodness I am late to the news.But I know Bamgladeshis have the fight.They even did it to Australia even.They may be the underdogs of this worldcup.And too they are in india's group.I don't know what might happen from now and interesting is Newzealand dimnished Australia and they became favourites but now ....

• India
7 Mar 07
yes but it is good for new zealand that it happens with very early yet world cup has not started. It is the wake up call for New Zealand and others teams. do not take very easily to other team but it will happen in this World cup 2007.