what works better ..PILLS OR CREAMS?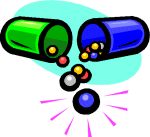 Canada
March 6, 2007 11:27pm CST
Does anyone know of a good, effective remedie for a sore back. My poor hubby has been suffering for 3 days now. He needs something for his back and I need something for the whining!!! LOL, thats a whole other post. Seriously though...what have you tried? what worked and what didn't?
2 responses

• United States
9 Mar 07
as a cronic back pain suffer i wonder did your hubby injure his back or is it just sore from overuse? i guess that would determin what products would help, but here we have a product called bio freeze and it works wonders, heat wraps work well also, maby some anti inflamatory meds will help.

• Canada
9 Mar 07
Hi mrsbrian, I've been bugging him to go to the doctor because that's the thing, he doesn't know if he hurt it or if just from overuse. He works very hard and is a very active person. As well his dad and one sister suffer from lower back pain. I'm going to buy him the heat wraps for now and I'll check for "bio freee". Thank you for your response!

• United States
7 Mar 07
i dont know if you have alleve up there in canada i would try that. Right now im having a brain fart, they also have the throw away heating pads, and for the life of me i cant think of the names of them. If i come up with it ill come back and tell you the name, i can see the commerical in my brain but not the name. I have used them a couple years ago and they work real well for back pain