sunset... i love watching it.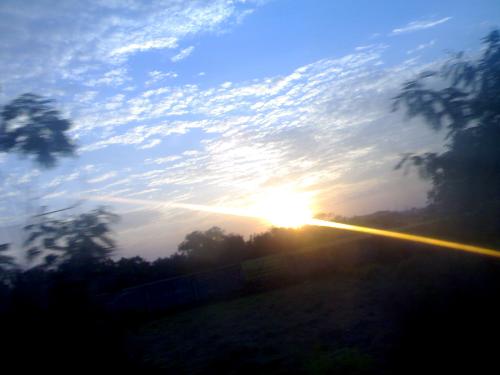 Philippines
7 responses

• India
7 Mar 07
thats a nice pic simplycza. i tried a number of times to catch on a pic like that but always ended up with a pic covered with bright light covering the whole photo. how did you do that? just share some tricks if any while taking the sunsets. i love the redness of sun at the time of sunset. you can just gaze at it orelse one could only see the brilliance for a couple of seconds.


• India
8 Mar 07
hi thanks. lol. i think you should try with your camera n see if you can captured some goodies

• Australia
7 Mar 07
Sunset is beautiful to watch, but it also affects your mood when you are watching. If you are watching it alone at the windows of your house, you will feel like the world is ending and you are left alone. If you are watching it with your partners, you will feel touching and you want that moment to be frozen forever. (good time to say some romantic thing)....lol

• Philippines
7 Mar 07
hmnn...you are indeed right easy888. but since i caught this sunset while i was on a moving car, i never got the chance to emote hehe.

•
7 Mar 07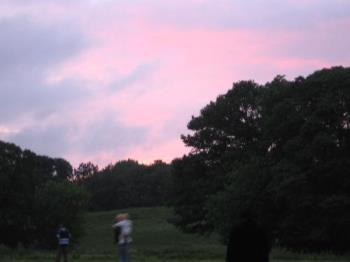 I must admit I do love watching a sunset, especially during the summer months when the sky seems filled with a glow.

• Philippines
7 Mar 07
oppsss, we have the same in common. thanks for dropping by to comment.

• United States
7 Mar 07
I love watching and capturing the sunset. It can be in many different colors at any given time. Not all at the same time, but a different color each time. I have also taken pictures of the sunset because it is truly beautiful to see it when it is an orange or a red color. Some of my pictures didn't fully capture the beauty of the color and how it was positioned in the sky. I think it is prettier when you see it in person.

• Philippines
7 Mar 07
hello steph, we have the same in common. we both love watching sunsets. for me it was just like a miracle and someone catches it in person was so lucky. of course not all people has that time of enjoying the beauty of the nature. a lot of people nowadays was so busy, majority of them never knew the last time they saw sunset. am i right?

• United States
9 Mar 07
It's a lovely picture. One of the reasons I bought my home out in the middle of the desert, was to see the sun rise and sun sets each day behind the mountains. They are so awesome, and so colorful.

•
9 Mar 07
That's a truly lovely view, thanks for sharing it. I was just driving home 20 minutes ago and saw a gorgeous sunset with pink and red and orange shades, I wanted to take a photo with my phone BUT I think that would have been a bad idea. The law changed here last week in the UK which means you can get 3 points on your licence and a fine for talking on your phone whilst driving, so I dread to think how cheeky it would have been for me to try to take a photo of the sunset whilst I was sitting in slow moving traffic LOL! A sunset is a beautiful site, we take such beauty for granted most of the time as that is the time of day we're often most busy travelling home from work or school or college or whatever else one does at that time of day. Thanks for starting this nice topic. I look forward to coming back and reading more responses. x