Come we Mylottians as community should express grief over Phillpines Earthquake.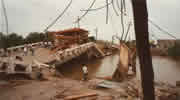 India
2 responses

• India
8 Mar 07
Yes, as a human being we have to make such attempt whenever fellow person suffered. It is more and more right time to express our grief. I joined with you in this regard.

• India
8 Mar 07
Thanks Prasad, for your support, we have a huge number of fellow users from Phillipines.

• United States
10 Mar 07
Yes it's awful.. and the tidal waves are from earthquake too and they are just awful too... I watch the news reports so I can share their grief and pray for them.

• United States
10 Mar 07
P.S. I was surprised to find out lots of people have been dreaming of earthquakes, even tsunami.. and clouds rolling with storm.. I wonder if people have always dreamt of these? or maybe news travels so good these days, we now 'see' them.. so dream them.. Or sometimes I think it is one of those things (presently) in the psyche` of mankind..

• India
10 Mar 07
Your responses are both intelligent and understanding.