Does your dog really understands what you are saying?


United States
March 8, 2007 1:05pm CST
When you talk to your dog, do you believe he understands your words (language) or the tone of your voice? Think about it. Most of us say 'SIT!' in the same tone, as we do "Roll over" and "Fetch! Get it! Bring it back!". Who doesnt use the soft "babyish" queation voice when we ask if s/he wants a "Treat? Cookie? Bisquit? Bone? Play? Walkies? Out?". A vet technician friend insists its the tone of voice, not the words, the dog learns. Do you agree?
9 responses

• Philippines
10 Mar 07
Hmm I think your right. Coz when Im angry, my dog gets scared and when I play with my dog, do the baby talk to it, she becomes exited.

• Italy
9 Mar 07
When our dog was very little my father learned it all the positions with some words.It follows the orders because understands them,but when my father is not present it doesn't answer...ahahahahaYeah I think too that it's so important the tone of the voice becasue my dog understands that we are not so able to give it orders and the only person it gives hear to is my father.

• United States
8 Mar 07
Sometimes I think that my dog can understand me, but like you, I have also heard that it is the tone of the voice that they recognize. I'm not really sure what to believe, I'm just glad that my dog listens, and isn't much of a hassle.


•
8 Mar 07
in away a agree but i also think that dogs are cleverer than we give them credit for. my dog is 14 weeks old and has learnt so much really quickly we only have to get him to do some thing 3 or 4 times and he's got it.


• United States
14 Mar 07
I choose to believe they understand what I am saying...but then again I think they are little furry people to. I tell my daughter they are her brothers and sisters...lol My daughter is 20 and loves dogs too. I have grand dogs not grand kids...lol

• United States
9 Mar 07
I dont care what the Vet says. My dog does understand what I say. I have trained him from a puppy and he is doing wonderful. I read on petco site that dogs are den animals and they choose a leader of the pack. For my dog, i am the leader of the pack. He minds me very well. he does what I tell him to do and I know he knows what i am saying.

• United States
8 Mar 07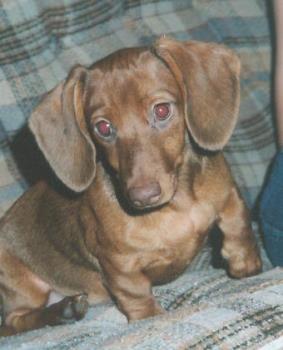 No, my guys know that when I ask if they want a cookie it means a treat. We can be in another room and they will run to the kitchen and sit looking up at the cabinet where treats are kept until I get there. They also know that treats come home in bags. When I come home from store they try to go through any bag that is put on the floor to look for TREATS! My guys all seem to know exactly what I'm talking about. They even understand when I tell them to go see Dad or one of the kids. I see your vet's point on commands, but there is lots more to animals and a vet of all people should know and have this connection!