The Female Brain...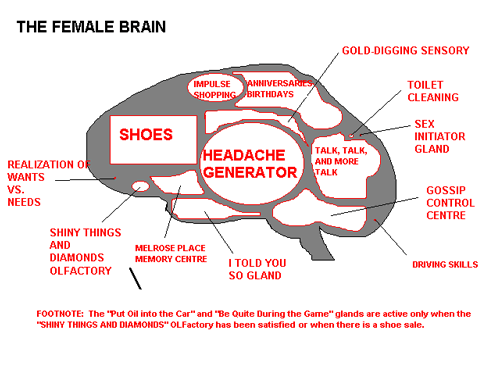 Philippines
March 8, 2007 1:43pm CST
I got this email from my friend and was a little surprised how he got this. Well, am not sure if every woman has this kind of brain pattern. I should say that for the woman closest to me, my mom, her realization of wants vs. needs is bigger than her shiny things and diamonds olfactory as opposed to the picture I attached herein. What about you, do you think this brain pattern really works for you or the other women you know pretty well? Or they are some things which aren't true to them? please see attached photo to see how the female brain is usually divided.
4 responses


• Canada
8 Mar 07
Yeah U used a good day to post it...thats ok..but i dont think the diagram u attached is any way near to reality...for most of us nowadays realisation of needs is always active...this gold n jewellery thing or some other things too are just not imp as much as shown in it...its totally differently perceived...

•
8 Mar 07
I have to say that's not the most tasteful or enlightened post to make on International Women's Day. No it's not true.

• Philippines
8 Mar 07
Oh sorry, I didn't mean to say anything bad about women. I was even surprised when I got this email from my friend, that's why I posted this here so I would know the opinions of my fellow mylotters... my apologies!

•
8 Mar 07
It's ok. It's just that these stereotypes are rampant and they can have a really negative impact. :)

• India
8 Mar 07
All due to God's creation. everthing is a miracle i would say. Infact i got an email few days back with a letter which had 6f's in a paragraph and men could only read 3, while women could read 6. it seems the man's brain doesnt prcoess the alphabet f when it comes in "of"