Raising kids to become Independent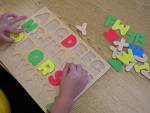 Philippines
March 9, 2007 7:02pm CST
Our role as parents besides providing the basic needs of our family like food, clothing, shelter is to help our kids become independent by themselves. As early as now I am encouraging my 3 boys to do things for themselves like putting their soiled clothes in the laundry basket and packing their toys away. I believe the essence of independence is doing something for one's self.
2 responses

• United States
14 Mar 07
I agree with you as well. I don't have kids, but my parents raised me to be responsible and do things for myself, and at 19 I'm still not completely financially independant from my parents (they pay for my shcool and housing) but I'm a lot closer than most people my age are! I had friends when I was younger whose parents used to do thier homework for them. I was jealous at the time, but I look at those people now and they can't really do anything for themselves. I am greatful that my parents raised me to be independant, and I'm sure your boys will be too!

• Philippines
15 Mar 07
I know that there are things that kids can do by themselves. We can't pamper them all the time, they need to be able to stand and decide by themselves even at an early age. Just simple things like what clothes to wear, what food to eat etc. Not me telling them to do this and that. I want them to be assertive and at the same time respectful and abiding to us as they're parents.

• Philippines
14 Mar 07
I absolutely agree with you, sultan. I have two little girls of my own. I always believe in disciplining them to do things on their own as early as NOW. Simple things like organizing their toys and drawers. I also taught them to place their plate on the sink after eating. My youngest daughter even know how to brew coffee for me. LOL...let them do it, while I continue surfing the net. :)