Some people take self expression a little to far!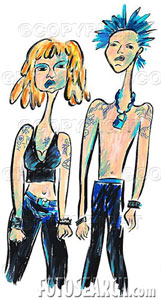 Canada
March 9, 2007 7:40pm CST
Personally I do not care for tattoos or body piercing (other than traditional earrings). Although I'm not a fan of "body art" I have never Judged anyone else who has tattoos or piercings...until today! I found myself starring in disbelief at this 20 something man who was extensively tattooed, he had studs in his nose, chin, and eybrows, but the shock for me was the bic lighter in his earlobe!! And we're not talking a mini bic either. Seriously, what in the world possess anyone to do this to their body/face. I've heard the term "self expression" but what are they expressing? Did the guy want everyone to think he was tough, cool, unique...or was he just tired of losing his lighter? I have to wonder if this guy has a job. I'm not trying to be rude, I'm just curious if anyone else thinks it a bit strange to want a lighter through their earlobe or to be heavily tattooed? Do you have a tattoo/piercing? Does it signify anything or did you just think its cool? I'm intrested in your oppinion...I just shared mine:)
10 responses

• United States
10 Mar 07
I do not have tattoos and only one hole in my ears.And they are not for me but I only can say for my body. This young man is trying to find himself so to speak. I'm in my 50's but I'm not too old to remember finding myself by burning my bra,protesting the Viet Nam war,not wearing underware,smoking pot,luv ins,sitting on the courthouse steps in LasVegas in support of Angela Davis,marching day after day for a cause,doing acid and dancing on the beach all night, drinking myself silly,all night beach parties, and on and on.I'm lucky to be alive. Today I'm considered an upstanding citizen and I do the right things everyday or try to but I remember being pretty outrageous back when. That young man might be a nice guy or just another lost soul.Whichever it is he could probably use a smile.There is too much pain in this world and you never know what a smile will accomplish and chances are you'll never find out,but one thing for sure it can not hurt. I realize I'm not answering your question and I hope I have not Offended you.I just wanted to throw out another slant. Thanks Raydene

• Canada
10 Mar 07
I agree with you saying maybe this young man may be a very good person, but what gets me is one day he's going to be a grandpa hopefully. I'm a grandma and I'm sure glad my kids aren't asking me about tatoos and piercing.

• United States
10 Mar 07
Okay, I'll try to explain this as best as I can. I am heavily tattooed and have a few piercings (nothing as extreme as a bic lighter mind you). For me, it's not only a form of self-expression, it's a way to display the art that I enjoy. I wear art (I think of the really good tattooists as artists) on my body, rather than hanging it on a wall. I would say that people who do it for shock value, to be cool, or to look tough are doing it for all the wrong reasons. I have had to deal with a lot of negativity from people who choose to judge me simply by looking at me and I have learned to deal with that by realizing that they are the ones who are losing out by not taking the time to really get to know me as I consider myself to be a good person (hope that doesn't come off as sounding too arrogant). BTW, I am 39 years old and "founf myself" quite some time ago.

• Canada
11 Mar 07
Thank you for the response inked4life. I hope I never offended you with this discussion. Like I said in the post I have never judged anyone for having tattoos but if this fellow was looking for shock value, he succeeded. I'm sorry you have received negative reactions from strangers but, I think its great that you have enough self esteem to ignore it.

• United States
16 Mar 07
I have three tattoos, one of them is my avatar, but I had some of the colors changed, one of them was just for fun, and my third is my daughters birth symbol inside a sun with some cherry blossoms around it. I think its a way of displaying art that I enjoy, in regard to the fairy one, or honoring someone important to me. I have all of mine hidden however, I believe that you should have body art in places that can be covered by clothing, as it is better when you are interviewing for a office job, or if, heaven forbid, you have to go to court for any reason. I like to look at other peoples tattoos and piercings, its just intriguing. I wouldn't be surprized if the guy in question works as a piercer or tattooist, they often practice on themselves to learn to tattoo correctly.

• Canada
18 Mar 07
Thanks for the response Jen0526! I checked out your avatar, its very pretty as I'm sure your tattoo is also. I peronally know a couple different people who tattoo their childrens names in their body. Thaty MIGHT be one tat. I would consider if I wasn't so darned afraid of needles. You are probably right about this guys place of employment, I hope he didn't pierce his own ear with a lighter though...holy lick..that would hurt !!! I am curious about one of your tattoos...hope you dont mind me asking. What is a birth symbol and where can I find this out?

• United States
18 Mar 07
www.astrologycom.com/zodiac2.html is one place you can look, its the colored symbol next to each sign of the zodiac. Pierced with the lighter? NO! Its actually a form of piercing called stretching, and you do it slowly over months and months, each time getting a larger gauge earring. (Gauge is the size of the diameter of the jewelry used) It would take over a year to get the hole big enough for a lighter to fit in it. If he has a brain at all he did it that way, even though I have heard of people not waiting and forcing a larger gauge in before the hole was prepared for it. Its not smart to do that however, as it can result in some serious injury to the ear lobe.

• Canada
18 Mar 07
Thanks for the link...you learn something new everyday !! Well I'm still to much of a wuss to get a tattoo but if ever change my mind these symbols are ok. My children are taurus and scorpio. Capricorn is my favorite and I had to laugh at the symbol for cancer..lol! I'm glad you explained the process in which it would take to get a bic lighter through your ear...Im so naive.


• Canada
10 Mar 07
I agree its overboard, but each to their own I guess. Maybe I'm to old fashioned for my age...one thing is for sure I'm way to big of chicken to ever attempted a tattoo or a body piercing! Just be my luck to get an incurable infection or something LOL

• United States
12 Mar 07
I think some people get a bit to decked to out but if they are sure that is how they want to look, I say go for it. It is important to think about the longterm though. 60 years from now there are going to be some odd looking residents in nursing homes.

• United States
10 Apr 07
People like us put tattoos/piercings on our bodies so we don't have to deal with people like you.

• Canada
12 Apr 07
Thanks for the response, however people like ME aren't really that intested in opinions from people like YOU. As a member of mylot, I am well within my rights to post a discission based my views. I'm sorry you disliked the topic, and you are free to respond to ANY discussion but in the future I prefer replies that actually make sense and are of value. I was a nebie too so I'll cut you some slack and let you in on a secret...one line responses don't count for sh!t. I think your reponse to this discussion not only shows your lack of knowledge for mylot rules but you also demonstrate arogance, rudness and obviously you are a very defensive person. If you are that proud of your tattoos/piercings why be defensive? Hmmm, doesn't matter...I don't really care ! Have a great day, oh, and next time you can rate my discussions without wasting the time to leave a response!

• Canada
12 Apr 07
Nobody deserves to be talked too this way when posting a thread. you must be insecure to lash out on someone just because you decide to tattoo and pierce yourself up.

• United States
15 Apr 07
i have heard of people becoming addicted to tattoos. i have seen some beautiful tattoo work on people. i have exactly ZERO tattoos. my ears are pierced 3 in one and 2 in the other...just to be different when i was 17 and to shock my mom of course. i've also heard of people telling stories of experiences in their lives through the tattoos on their bodies. i have not however heard any significance for any piercings, no matter how many or where. though the bic lighter thru the earlobe, i'll just tell you that's called gauging (however it's spelled) they start with a little hole and gradually make it larger and larger. they like to play with putting different things in their ears. i never understood it and have known many young people who were either in the process of gauging their ears, or wanted to. all i ask them is if they are thinking of their own future at all because appearance IS important in the real world when interviewing no matter how they hate it, it's a fact.

• Canada
15 Apr 07
Im with you, I don't understand it! You're absolutly right, appearance is important..I'm not saying It should be that way but it is. I truely don't judge others, I only make decisions for myself but seeing a bic lighter in the mans ear really took me by suprise. I guess i'm to uptight. Thanks for the response syndibee :)

• United States
14 Jun 07
My fiance and I both have tattoos and several piercings each, including stretched earlobes. Neither of us have our earlobes big enough for a Bic lighter, nor do we plan to. :) But like inked said earlier, it is a lot about using our bodies to display art. All of the tattoos we have except for my first one were done by the same artist, and we are already planning to get more work done by her when we go home for Christmas. She is able to take our ideas and turn them into beautiful pieces of art. I have an eventual plan to cover the majority of my upper arms and back that will involve having portions of famous works of art tattooed. In that case, my tattoos will be recognizable artwork, and I hope that it will help people who see my heavily tattooed body understand that it is about art. :)

•
17 Apr 07
My tattoo and piercing means a lot to me, after being married to a control freak and bully for nearly 20 years, I celebrated my freedom by having something done that I was forbidden to do!

• Singapore
17 Apr 07
I've seen people who thinks body piercing and tattoos are acceptable and an art. I think it's outrageous! You have been given a body that is beautiful. But all they do is to abuse it! Isn't it a barbaric act? Self destruction? Then again, it's my personal opinion. Cheers! - Lyn