Did you or someone you know have a vehicle accident recently?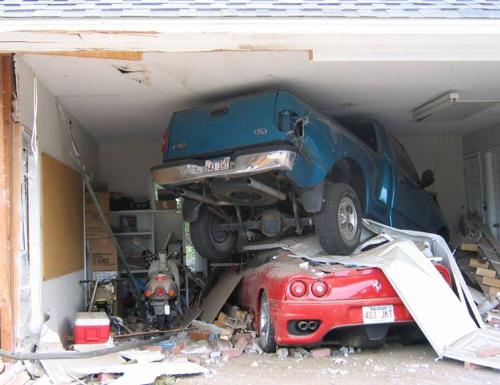 United States
March 9, 2007 8:38pm CST
Where did it happen? Were seatbelts worn? Was anyone hurt? What lesson/s were learned from the experience? Tell your story and I hope it has a happy ending. Here's mine:My husband is a nurse and works the night shift. In January we had a terrific blinding snowstorm come in just as he was going to work. His mother and I begged him not to go, but he said he had patients and decided to brave it. 1/2 way to work a speeding semitruck (lorry) hydroplaned on the ice behind him as they were taking a corner together on the interstate. The semi truck smacked into the rear hatchback to our van spinning my husband across the road--- then kept going!My husband had come to a stop facing the wrong way and then pulled to the side of the road. He called me on our cell phone and I could tell he was in shock. I asked if he was ok (yes), if the airbags went off (no), and to come home immediately. He did, very slowly. By the time he came home, he was sweating and very pale. I kissed him and put him to bed with him lamenting that was the last time he'd try to "act like a hero". I had called the hospital before he came home, explaining why he wouldnt show up and they were panicked that he was hurt! They were relieved when I called back later to say only his nerves were hurt. Once he had some warm milk and 2 aspiren, he instantly fell asleep once he hit the pillow. I called the Parkway police to report the hit and run, but a nice witness behind the 2 of them used their cell and called in the truck's getaway. There were so many accidents on that interstate that if my husband was injured or the van disabled the trooper told me they wouldnt know when they would get to him! Finally the police closed the interstate down 2 hours after his accident. The next morning we checked out our poor little lady and her rear door was crunched in, but the bumper was ok and no glass was broken. Even the windshield wiper still worked, but we couldnt open the door. However, we do have insurance which is why we pay those bandits all that money each month and the agent came over 3 days later with a nice check. Now that our lady has a new tail and paint job, my husband learned his lesson that night. As he said: "No more being a hero - its not worth your life. Thank goodness I was wearing my seatbelt!".
2 responses

• United States
10 Mar 07
Hi, I haven't had or been in an accident for years but I do have a story for you. We live just a short way off a busy bypass.We have a large pasture between the bypass and our house.We have horses in the pasture.Last November we woke up at 3am with our 3 dogs barking .My husband jumped up and ran outside and yelll for me to come out. There in the middle of the pasture was an ruv going in circles.I yell for my daughter to get up and come out. The fire dept,ambulance and police arrive about then.I had gotten my shoes on and ran up the road.There was 3 lengths of fence that was crashed into and spattered all over and of my 4 horses I could only find one in the pasture. We ran around looking for them.They were across the street in our nieghbors front yard eating grass nervously. During this time the gut in the blazer was still trying to drive out of the pasture but couldn't because he was stuck in the mud. We had quite a time getting the horses through the upper gate and to take them to the areana where we could lock them in and know they would be safe until we could repair the fence. The man driving the car was very drunk and believe it or not was a New Jersey police officer .He later said that he thought some one had put something in his drink. We had to have have the vet for the horses that day.One had a huge gash on the front of his head and it was all swollen.Two of them had injuries to the back end and one was lame for over a week.We were very worried because two of the horses were pregnant mares. We still haven't recieved an compensation from his insurance company but hopefully we will soon and we can forget about it.Both mares didn't loose the babies and should have them within the next month. Raydene

•
11 Mar 07
Nope. I haven't been in one since a school trip and It wasn't a bad one. A friend of mine was killed in a car crash although I'm happy to say no one else has. Seatbelts are good things, although sometimes they don't do anything or help. (like if you break or hurt your arms, the car tilts on the side and then ya stuck) ~Joey