How far would you go to fulfill on your collection?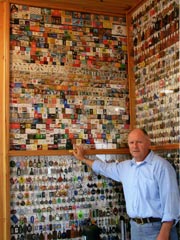 United States
March 9, 2007 11:15pm CST
Hmmm...I don't really have a collection. Maybe clothes? I think all women love clothes right? I also love purses, perfumes and shoes. However, some people are different...they have a specific collection of an item. My sister collects Piglet(Winnie the Poohs friend)! Whenever I see any Piglet item, I would buy it even if it's a little expensive because I love to give it to my sister. The last time I've been to the Philippines was 2004 and when I saw her room...she already have tons of it. I think her friends, bf, our siblings give her Piglet too because they knew she collects those. One time I watched a TV show in the PI. There was this Chinese guy who collects the one digit cell phone number. Example: 0917-999-9999. He tries to call every number and make a deal to buy that simcard. It's a pretty weird collection huh? Maybe he got nothing to do with his money anymore, lol. There was this simcard owner who asked for 100,000 Php for a tiny simcard. He didn't make an arrangement to lower it, instead he bought it. So far that's the most expensive simcard that he bought. How about you? How far would you go to fulfill your collection?
2 responses

• Murfreesboro, Tennessee
10 Mar 07
I once bought an entire set of 5 books just to get the one of them that I was missing, because I couldn't find it on its own. Books are probably the biggest thing I collect. I'm constantly running out of space for them and trying to find a new place to stash a few. I also collect anime on DVD, and some American TV series on DVD. I spent months going into a used DVD store almost every single day to see if the owner had gotten any Buffy the Vampire Slayer in, because I couldn't afford to buy them new and didn't really want to order online unless I had to, because I had problems getting packages in the apartment building where I lived.

• United States
10 Mar 07
I collect action figures and resin figures. And I've gone pretty far to get hard to find figures and complete sets. The most I've paid is one hundred and seventy five dollars, US, for a limited edition figure sculpted by one of the best artists in Japan. Only fifteen hundred were made, hand sculpted, and they're now worth thousands. I will never sell mine, I love it too much, but that's the furthest I've gone for my collection.

• United States
10 Mar 07
That's quite expensive to for an item but I know it's worth it since it's limited. Thanks for sharing!