How can i get money out of e-gold in my hand?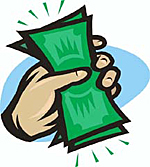 Bahrain
March 10, 2007 5:47am CST
Okay, so i'm not the person who is actually making money online so i can spend it online, it's more like a job for me as i'm unemployed and broke right now and i would rather cash out the money i make online than have it in an account that is virtual and that i can only use online. You see this is my only source of income now. And you know what they say 'a bird in one hand is worth two in the bush' My question is how do i get the money i make online in my hands, like cold hard cash. can i transfer it to my bank account? give me a fast and convenient way i can actually touch the money i make... Now before you answer, i don't want assumptions i want people who have actually done it before themselves, and i don't use paypal, it's not in my country so don't advise me to. thanks in advance, i'm waiting for your answers.
2 responses

• Sri Lanka
13 Mar 07
The best way to convert e-gold to cash is Alertpay. This is my link to the site. http://www.alertpay.com/?AS8xMTIyLgQ%3d It was only yesterday that I received my cheque from them, so that I can recommend without fear to anyone. But I do not know whether you can take this cheque to a bank and take cash to the hand. I will not do it anyway. This is in dollars and I will keep it in a dollar account. But I can deposit it to any other account which is in my name in whatever currency. So my advice to you is open an account in your name and get a payment by cheque. The account can be in your local currency. The cheque will take about 3 weeks to come by post. But you can do a wire transfer which will be a little expensive.

• Sri Lanka
14 Mar 07
Debit card is a very convenient way to witdraw, e-gold. For instance you don't have to wait 3 weeks to get the cheque. But when a samll amount is concerned, you must take into account the various charges attached to the card. Sometimes these are not clear so you have to read the small print well. Monthly fees Witdrawal fees Balance Inquiry fees Rejected Transaction fees are some of the fees attached to debit cards. But if you deal in millions these may not be significant.

• China
16 Mar 07
here is a list related to e-gold: E-Gold, fund account, cash out, all about the gold backed payment processor http://www.mylot.com/w/discussions/722311.aspx Cash out small amount of e-gold, withdraw less e-gold money http://www.mylot.com/w/discussions/886326.aspx AlertPay: Alternate ECurrency Good for Cashout E-Gold http://www.mylot.com/w/discussions/696409.aspx E-Gold and Online Security Recommendations http://www.mylot.com/w/discussions/447072.aspx Online Security: How to keep your e-gold and other accounts safe? http://www.mylot.com/w/discussions/441238.aspx Online Security: Use Firefox NOT iexplorer to access e-gold and other accounts http://www.mylot.com/w/discussions/688769.aspx Use ROBOFORM to Protect Your E-Gold and Other Accounts? http://www.mylot.com/w/discussions/452266.aspx Easy way to check if an e-gold account is blocked or not http://www.mylot.com/w/discussions/807893.aspx