Paint your xp with vista's looks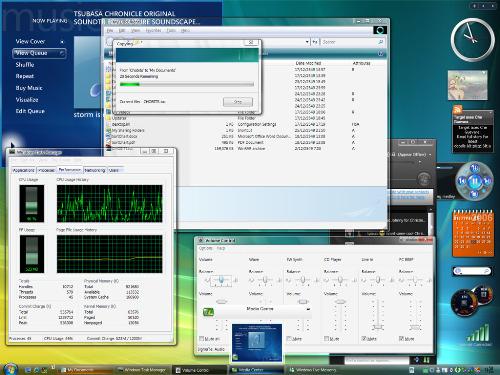 India
March 10, 2007 9:11am CST
There's a software. mm.. call it a standalone theme because once installed, it changes EACH and EVERY looks and feels of your XP. You can even fool your friends that you've got vista. Even the BOOTSCREEN is changed. This theme is called "Vista transformation Pack". Download it here... www.download.com/Vista-Transformation-Pack/3000-2086_4-10631174.html Check the picture of desktop attached with this discussion. Tis COOL[8)]
4 responses

• Romania
10 Mar 07
I have it installed. :) It's pretty cool, if you don't want to install vista yet, but want to get a feel of how it is and looks.I love the thumbail window which pops out when you move your mouse over windows minimised in the task bar. Also the start button and clock look much nicer. All in all, I think it's a good modification to the tired old XP look.

• India
10 Mar 07
The only thing which it lacks is the 3D flip view. That Mr.Windows X is damn great to program such a theme.

• Romania
16 Mar 07
Woow WIndows Vista.. what a hot subject i can say. I have talked a lot in my area with many of my friends and all of them had only positive thoughts about it. I can say that i was blow off by this new windows system. Some things certainly lack to it but this new look which Microsoft has incorporated in it certainly do the money you would give for it. I have waited this new system for 2 weeks and here i am using it. It was pretty hard for me to buy it because in my area it can't be found. So i had to ask a friend from another part of my country to order me. I am so happy using it and all i have are only words of gratitdue. I post here a short description about VISTA. Windows Vista contains hundreds of new features; some of the most significant include an updated graphical user interface (GUI) and visual style dubbed Windows Aero, improved searching features, new multimedia creation tools such as Windows DVD Maker, and completely redesigned networking, audio, print, and display sub-systems. Vista also aims to increase the level of communication between machines on a home network using peer-to-peer technology, making it easier to share files and digital media between computers and devices. For developers, Vista includes version 3.0 of the .NET Framework out of the box. The .Net Framework makes it significantly easier for developers to write high-quality applications than with the traditional Windows API.

• India
10 Mar 07
Welll ... , Guys download this If ur PC is not fast enough and u lookin for VISTA look .... i have this one version 6.0 Final .... And rate serious.... (+) if u liked it it will not slow ur PC its not like Windows blind etc etc its say VISTA only PEACE :)