Baked Rice Pudding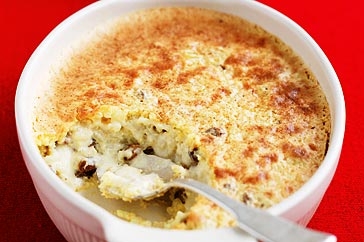 Australia
March 10, 2007 3:41pm CST
Cooking Time 35 minutes Ingredients (serves 4) 1 orange, rind finely grated, juiced 3/4 cup sultanas 2 1/2 cups milk 1/2 teaspoon freshly grated nutmeg 1/2 cup calrose rice 4 egg yolks 1/3 cup caster sugar or just ordinary sugar will do. blueberries, to serve Method Preheat oven to 180°C. Lightly grease a 4-cup capacity ovenproof dish. Place 1/3 cup orange juice in a small microwave-safe bowl. Cover and microwave on HIGH (100%) for 1 minute or until hot. Add sultanas and set aside to cool. Meanwhile, combine 1 1/2 teaspoons orange rind, milk and 1/4 teaspoon nutmeg in a saucepan over medium-high heat. Bring to the boil. Add rice and reduce heat to low. Simmer, uncovered, for 12 to 15 minutes or until rice is just tender. Remove from heat. Using an electric mixer, beat egg yolks and sugar in a large bowl until pale and creamy. Add rice mixture and fold gently to combine. Stir in sultana mixture. Spoon into prepared dish and sprinkle with remaining nutmeg. Place dish in a roasting pan. Pour boiling water into roasting pan so it comes half way up side of bowl (this is known as a 'water bath'). Bake, uncovered, for 35 to 40 minutes or until custard is set. Serve warm with blueberries. Notes & tips Tip: Grate your own fresh nutmeg just before use to ensure the best aroma and flavour. It is much stronger than pre-ground, so adjust quantities when substituting one for the other.
5 responses

• Moldova
10 Mar 07
Very nice Baked rice pudding with a good aroma, My sister like very much. I will prepare it to my friends.

• Australia
10 Mar 07
I haven't had baked Rice Pudding for years, my mother used to make it, not exactly the same as this but I used to love it, people just don't even think of things like thi any more...thanks for the memories...



• United States
10 Mar 07
Oh Kathy, I love baked rice pudding. My mother made it for us kids all the time. Now, I make it several times a month. I still have a lot of blueberries. This will make a wonderful treat. Thanks so much.