How do you deal with your fears?

Dominican Republic
March 10, 2007 10:34pm CST
By talking to people I realize that everyone has fears. Fears may be mild or very extreme (phobias). I am terribly afraid of death by accidents. Whenever I'm travelling especially for long journeys, I usually pray all the way until I reach my destination. I am doing what i call 'self therapy' to help me overcome this fear. But tell me, do you have any fears? If so, how do you deal with them? Do you face them head on or what? Let me hear your views!
8 responses

• India
11 Mar 07
i am afraid thinking about future,afraid of loneliness,afraid of others sufferings when they are not taken care by near and dears. tsese fears are all the time stirring in my mind when alone because all these are staring at me in near future.now how to get rid of all this i really do'nt know.these are affecting pleasure of present life. only thing we can do is to pray to almighty to prove me wrong in this regard also i belive that god steers us clear from pains sooner not later.i hope your next journey will be cheerful without a trace of fear.god bless us.

• United States
11 Mar 07
I find that expressing your fear to other people can help a lot. It helps to get it off your chest and find out if there are other people out there like you. As far as other ways go, you can try to find other activities to keep your mind off the fear. Also, not to sound cliche' but to overcome my fears, I face them.

• United States
11 Mar 07
My fears are dealt with by going at them full bore head on. Thats the only way if you want to rid of ease these fears in your mind. My greatest fear is actually water/swimming. I try to go to the beach a few times a year. It's not easy but I do it. As I child I had an experience that taught me to swim but was scary for me even though the water was only waist deep. But that's how I go about facing my fear of swimming. I'm a decent swimmer but I fear drowning. Thanks for this discussion. HAPPY POSTINGS FROM GRANDPA BOB !!

• Australia
16 Mar 07
Hi, well I fear a lot of things. VOMITING, FROGS, LOSING MY FAMILY are top of the list. I have had a fear of vomiting for quite a few years now, and although it doesn't rule my life like it used to I still do fear my children getting it. FROGS just make me cringe, the thought of one makes me shiver. When I was a child they used to always jump in my bed and my mum would have to get them out. Now I am 34 and I have to wake my 7yr old son up to get them out of the house if my hubby is at work. My husband didn't actually realise how much I feared them until one night when he was at work and one was in the house, I had almost stepped on it on my way to the toilet. I screamed and woke my little fella up and I just froze. My hubby said just throw a towel over it and pick it up and throw it outside...well the thought of doing that almost made me sick with fear, even typing it now is making me cringe. SO in reply to your dealiong with fears head on, it is just not possible for me. That 3d thing they do with people who are afraid of spiders, that would not work for me cause I know that it is not the real thing that you are touching and my brain would know that. And I fear everyday of losing my family. I pray (I am not religous though) every time that we have to travel somewhere for a safe trip to, during and from our destination. I beleive if you avoid things then no harm can happen. I don't like horses and my husband is very fond of them and tells me not to instil my fear into the boys. But I keep saying that if they don't get on one then there is no chance of them dying from one. Then he says that they could cross the road tomorrow and get hit by a car. It is snake season and I try to keep them from going outside, but my hubby says you can't wrap them up in cotton wool. He is right but I still believe in 'prevention is the cure'.

• United States
2 Feb 12
I just look at that which I love and decide I love so much that I'll avoid thinking in fears

• Jamaica
21 Jun 07
Yes bluegem, fear is ubiquitous to humanity. It is part of what we inherit as descendants of Adam, fear was not a part of human experience until Adam neglected his role and wide eyededly disobeyed. Fear is not of God. Fear is a stock in trade of our enemy. There are fears that we can overcome easily with help and time if we see that they are irrational, yet there are some fears that are deep seated an have a darker, spiritual origin. We deal with fear by facing it head on but not on our own. The divine power has been made available to us. But first we muts switch spiritual camps. The Spirit of God is not a spirit of fear, so when we receive him we receive the power to overcome fear.

• Jamaica
2 Jun 07
I am afraid to face my fears. But talking about them do help in easing my fears.

• Ghana
14 Mar 07
okay! let me ask you; have you ever been involve in a lorry accident before? if the answer is no then i think you need to constntly pray for devine intervention. I am happy when you said you pray till you reach your destination. I personally,fear height but i believe its a matter of praying. Fear is a spirit that retrogresses life thats why you have to pray.

• Philippines
12 Mar 07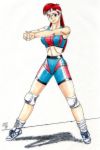 My fear is that I'm never enough.. not intelligent enough, not talented enough, not beautiful enough, not sexy enough.. I try conquer my fear my making it a motivation to work harder, by learning more about the world, by exercise and by taking good care of myself.